The Importance Of Two Skins Per Pair Of Boots Or Shoes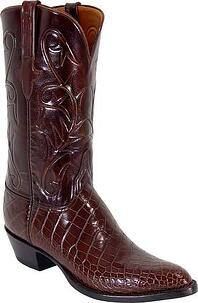 When you are picking alligator skins for footwear, it's essential that you know several things going in before you make your decision. Alligator skins for shoes and boots are typically ordered in pairs. Even if you're simply making one pair of boots or one pair of shoes, the job requires two skins. From that pair of alligator skins, one pair of vamps will be cut from the bellies and one pair of vamps will be cut from the tails. The rest of the alligator skin can be used for the foxing and the rest of the shoe or boot.
Additionally, both vamps in your pair of shoes or boots should be cut from similar parts of the alligator's belly or tail. For example, if you cut one vamp from the top of one belly, you should cut the other vamp in the pair from the top of the other belly. The same goes for the vamps cut from the tails. Otherwise, you will have different scaling size and patterns on each vamp. Ideally, you're looking for consistency of pattern. It's one of several distinguishing traits of fine alligator skin footwear.
Getting Specific: Alligator Skin Grades And Sizing
It is perfectly acceptable to use grade 2 or grade 3 skins for boots or shoes as long as the defects on each pair of skins are on a similar portion of the belly or tail. Remember, you're looking for design consistency.
As far as skin sizes go, shoes usually require alligator skin that is 25-34cm wide. Boots usually require alligator skin that is 30-36 cm wide. Again, grade 2 or 3 is ok as long as you can pair off where the defects are on each skin.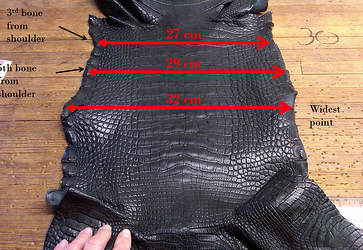 Occasionally, low-grade 45-55 cm skins are used to get better yields. The same basic concepts apply. However, the scales will be much larger.
There's a bit of difference in the process when you are using the alligator skin for the whole leg of the boot. Refer to the process described in our handbag section to determine the skin you will need to cover this section of the boot.
Contact Pan American Leathers For An Appointment At Our Showroom
If you and your clientele insist on only the best luxury exotic skins, we'll be happy to show you varying sizes and grades of alligator skin at our New York showroom. Feel free to make an appointment with us.