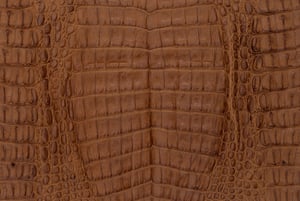 Crocodile skin is often considered a highly attractive option for making handbags, boots, wallets, belts, luggage, and countless other fashionable exotic leather goods. In particular, the American alligator skin is sought after for its soft, supple hide that makes it easy to work with.
But, what about the bonier crocodilian hides, such as caiman skin? Caiman skin is quite possibly the boniest of all the crocodile skins, making it rigid and harder to work with for many designers.
Why would you want to use caiman skin over softer American alligator skin?
Actually, there are many reasons why you might want to use caiman skin for your next exotic leather project over all the other leathers on the market, including:
1: It's Easier to Find
A lot of the time, when you're creating fashionable wear, time is a major factor. One of the major advantages of using caiman leather over other crocodilian leathers is that it's almost always available.
The waiting lists for alligator hides can be unbearably long; the clients of major fashion houses can spend years on waiting lists for alligator or crocodile skin handbags. This is because the demand for these exotic leathers is consistently high across the world and the material is in very short supply relatively.
In fact, handbags made from crocodile skin are so highly sought after that, in May of 2016, one handbag sold for over $300,000—an event that was reported by nydailynews.com when it broke the record for the most expensive handbag sold at auction.
Caiman skin is very easy to source by comparison. Many different tanneries and distributors will likely have the hides you need to complete your project, and in a variety of colors.
2: The Deep, Distinctive Ridges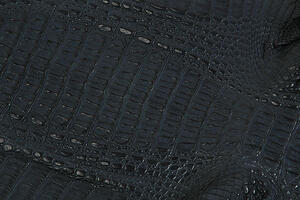 The boniness of caiman leather not only makes it more rigid than other crocodilian leathers, it makes for a deeper, more distinctive pattern of ridges in the scales.
Additionally, the calcium-rich deposits in the hide give it a patterned effect that may persist through the dyeing process. This can give a caiman leather hide a distinctive look that's not usually possible with crocodile skin with less bone.
When working with caiman skin, many designers prefer the hornback cuts because they put the thicker, more distinctive back scales in the center of the hide. Caiman boots often use hornback cuts to create a visually distinct look.
3: Less Expensive than Other Crocodilian Leathers
Generally speaking, caiman skin is not only easier to find than a comparable Nile crocodile or American alligator skin, it's more affordable as well. Caiman hides are frequently priced at a fraction of the cost of a comparable alligator hide. This fact can make budgeting for an exotic leather project easier when you opt to use caiman skin.
4: Because Caiman Skin is Rigid
While often referred to as a difficulty, the rigidity of caiman leather can be an asset for certain types of exotic leather projects. In particular, the stiffness of the scales makes caiman leather ideal for hard-case style handbags and other products where the hide needs to hold its shape.The calcium rivets in the skin help it hold its shape better than softer hides, lending the scales a more structured appearance.
While there are some challenges associate with using a tougher hide like caiman crocodile leather, it can be well worth the extra effort.
Learn more about caiman and other crocodilian leathers today!