According a recent article by China Jocson on GMA News, Gucci's latest display of jewelry, shoes and handbags features a boyish meets girlish theme.
There are flat sandals for the season of relaxation, and rounded sandals in black patent made with black crocodile leather with touches of gold—sandals that marry comfort with frill.

For this season's bag, Gucci introduces the Gucci 1970 bag.
The name Gucci 1970 is inspired by the year when, for the first time, metal corners appeared on the House's accessories. These metal corners now serve as distinguishing elements of the design of the Gucci 1970 bag.
Taking its cue from the House's archive, the bag is a modern interpretation of a historic style. This season the bag becomes spacious and ultra soft, made using traditional leather such as nabuk calfskin and nappa, and in precious
exotic skins
such as glossy crocodile skin and lustrous hand-painted
python skin
.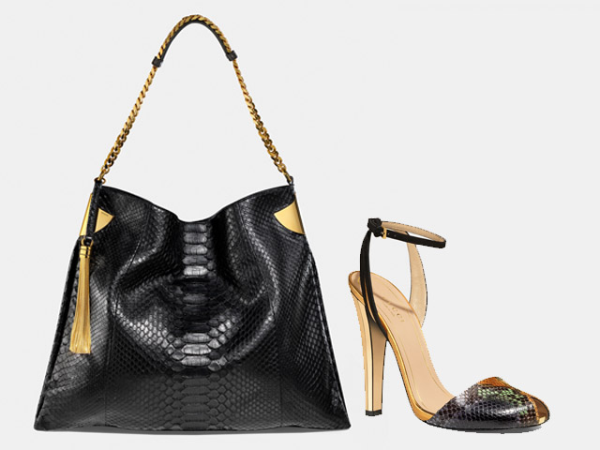 The palette is as luxurious as the materials: emerald green, black, natural beige tones, white and cocoa. In addition, crocodile skin and
python skin
create sophisticated chromatic intensities with their exotic leather textures.

Iconic details in brass hardware are embellished in minimalist lines. Corners are rigid, polished and engraved with the Gucci logo, and jewel tassels are handcrafted in micro metallic chains and applied to the strap to swing like the fringe of a dress when the bag carrier walks.

The bag's handle links the highly crafted metal chain to the leather, allowing for a practical model which is comfortable to carry.

A symbol of the eternal balance between tradition and innovation, the Gucci 1970 bag comes in both maxi and medium sizes and is versatile and multi-functional. Marketed by Gucci sales associates as "an accessory that is elegant, luxurious yet discreet," it is "perfect from day to evening which makes it even a worthier purchase." –KG, GMA News