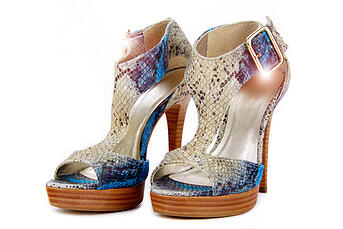 Fashion changes almost every minute in this world, and sometimes it's hard to keep up with. That's why we looked over the world of fashion to see what's up and coming, especially when it comes to exotic skins. As it so happens, python skin fashion is on its way back in certain markets, and with stunning results. Style.com ran an article recently on some of the new and upcoming fashions that are made from python skin, and we've looked through the slideshows to see what trends seem to be making their way into the fashion world. We've got a few of them to help give you some ideas on what you can do!
Bright Colors
First off, we're noticing that there are a lot of bright colors going on in the fashion world. Dying python skins is easy to do, especially when you're a tannery like we are, so it's no surprise to us that more and more python skin is hitting the market dyed vibrant colors. We've seen a lot of yellow, purple, and other vibrant—and distinctly not python-colored shades rocking the runways.
You can incorporate these colors into your own designs as well, thanks to our own services! We've got plenty of skins available, and we can dye and bleach them to whatever color you need. So, if you've got a handbag project you're working on and you want it to be bright purple, have no fear—it can be done.
Python Skin Accents
Another thing we're noticing is that a lot of the current fashion that uses python skin use it as accents to garments made primarily from another material. Think tweed jackets with python-skin elbow patches or dresses with python skin segments around the torso. Using small patches to create visual pop to an otherwise ordinary dress not only spruces up the fashion but can help keep costs down versus doing a whole dress in python.
Call Us Today!
These are just a few of the big things we noticed—there are bound to be new trends right around the corner! If you need help with any of the python skin fashions listed here, we can get you started. Just give us a ring and we'll help you through the process of selecting, ordering, and getting your project ready!