What are you using it for?
The first thing to consider with ostrich skin is what are you using it for? Do you need the skin to be very soft, perhaps for garments or a very soft bag. If so, you will want to use garment weight ostrich skins which average approximately 11 square feet and are approximately 0.6-0.8 mm thick. If it doesn't need to be quite so soft, you can use standard weight ostrich skins which average approximately 17 square feet and approximately 0.8-1.0 mm thick. The garment skins are typically 20-30% more expensive than a standard ostrich skin of the same color and grade.
Size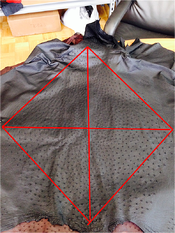 Gradeable AreaOnce you determine whether you need a garment ostrich skin or a standard weight one, you know approximately what size the skin will be. However, you also need to consider that only approximately 2/3 of the skin contains the full quill. The "quills" are the distinctive little bumps on the ostrich skin. The full quill section of the skin is the center of it where the quills are the most pronounced. The rest of the skin (1/3) has either partial quill (less pronounced quills) or no quill.
So for example, if you need 100 square feet of ostrich skin, are you looking for 100 square feet of full quill or 100 square feet total? If you need 100 square feet of full quill, you should order a total of 150 square feet. The easy way to do this math is just multiply the square footage amount of full quill you need by 1.5.
Grades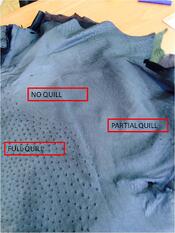 Full Quill, Partial Quill,
No QuillThe next thing you want to think about is your yields. Since ostrich skin is expensive, you want to make sure you utilize as much of the skin as possible. What is the size of your panels you need to make your product? Are they large panels? The larger the panels are, the better grade the ostrich skin you will need. Handbags and upholstery typically grade one skins. Boots, small leather goods, shoes and jewelry can normally use lower grade skins which are less expensive.
The grading standards for ostrich skin is fairly straightforward, and knowing these standards means that you can select the correct skin for your project. Divide the belly of the alligator skin into four imaginary quadrants:
Grade I: No defects on any quadrant
Grade II: Defects on one quadrant
Grade III: Defects on two quadrants
Grade IV: Defects on three quadrants
Defects are commonly holes, scars and scratches. A common misconception is that if you buy a grade III or IV skin, your finished products will have defects on the skin. This is not the case. A manufacturer experienced in working with ostrich skin will cut around the defects so that your finished product will only include defect-free panels.
| | |
| --- | --- |
| Grading - Holes | Grading - Scratches |
Grade I/II ostrich skin usually makes garments, handbags, upholstery and luggage. Grade II/III ostrich skin is usually used in shoes, wallets and boots. Grade III/IV alligator skin grades are used for small leather goods.
Color
Ostrich skins are mostly stocked in dozens of matte colors, but there are also some specialty finishes available, like classic, pull ups, stone washes and a few others. The matte is the baseline price with the specialty finishes typically being approximately 20% more expensive.
Pricing the Skins
Ostrich skin is priced per square foot. Each grade is separated by a 3-5% price difference, of course better grades being more costly. Specialty finishes and garment skins are also more expensive per square foot, typically by 20-30%.
If you have any more questions or would like to price out ostrich skin for your project, feel free to contact us. We're ready to help!