Stingray skin is very durable and uniquely beautiful. The bony remnants of the dorsal fin provide a pattern that looks like a tiny cluster of pear-like beads (called the crown). This is one characteristic that makes it truly unlike any other leather. The skin can be used for virtually anything you wish. Common uses are handbags and boots but many prefer to use it for larger items like seat covers and furniture. Whether you are making a piece of furniture or a watchstrap, how do you choose the perfect skin? There are many things that factor into this answer. What is the stingray skin being used for? What size and grade of skin is needed? What is my budget in this project?
Use Determines Size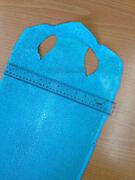 The intended purpose of the stingray skin is vital in determining which type to purchase. As you might assume, larger items typically require larger skins. Generally, we've seen our customers use the following sizes (in width) for these products:
| | |
| --- | --- |
| Size (Width in inches) | Stingray Skin Uses |
| 4" to 6" | Home interiors, auto, moto or other upholstery |
| 6" to 9" | Handbags |
| 9" to 11" | Cowboy boots and other Western wear |
| 11" to 13" | Ladies' wallets or other large accessories |
| 13" to 17" | Men's wallets or other small accessories |
Only 5% of stingrays produce 15" skins so availability in these sizes are limited. Of course, each project is different but you can use the above as a general guide.
Grade of Stingray Skin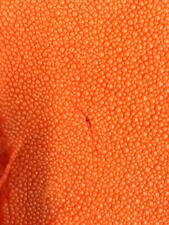 This hole would make it a grade 2 stingray skin.
Stingrays are wild fish living among an ocean of other wild animals, coral, grainy sand basins and the other uncontrollable elements of Mother Nature. As a result, many stingrays have scuffs or other flaws on their skin which could be a result of rubbing against sharp debris or encounters with other wildlife. This is a factor in which grade of skin to choose. If your item requires large, flawless panels like a handbag, you will need a grade 1 skin. If your product requires smaller panels like money clips, belts or other small accessories, you can use grade 2 stingray skin. The difference between a grade 1 and grade 2 skin is that a grade 1 skin will not have any defects in the square centered around the crown of the skin (the tiny cluster of pear like beads in the center of the skin).
Color and Finish of Stingray Skin
Stingray leather comes in a variety of colors and finishes. Basic finishes included unpolished (also called standard, unsanded, single crown, pearl) and polished (also called sanded, jewel crown, art deco). The polished skins are buffed smooth and lacquered. These skins are softer, smoother and finer looking but since the skin is buffed to smooth it out, the color isn't quite as rich as on the unpolished. For the same reason, the crown is less pronounced on the polished skins. We stock over 20 stingray colors across these two finishes in a variety of sizes but we can also dye to match.
Although, not commonly stocked, there are other specialty finishes available, including metallics, holograms, animal and floral prints, a soft oiled finish and others. In addition, the crown can be manipulated to be all different kinds of shapes (crosses, long lines and more). Of course, there are costs associated with the additional work that these specialties involve.
So you'll want to think about aesthetic, feel, timing and cost when you are picking your colors and finishes.
Budget
All of these factors affect the price of the stingray skin. Larger, better grade skins are more expensive than smaller, lower grade skins. Specialty finishes are more expensive that basic finishes. In the case you are making to order, smaller volume orders will have a higher per skin price than larger orders. The grade and finish will typically affect the cost by approximately 10-15%. Size and quantity can have a lot larger affect.
Supply and demand can alter the cost as well. The price usually moves in the direction of the demand curve. If stingray skin is a staple item in a season's fashion, the price will be higher than when it is less popular.
Stingray skin are a beautiful and luxurious leather option. Ranging in almost any color you can dream of and a wide variety of sizes and finishes, your options are virtually limitless. If you are aiming for a rough-textured wallet, an unpolished look may be best for you. On the other hand, if you are making a leather chair you may want to consider a smooth, sanded finish. Keep in mind the size and condition of skin and the maximum price you are willing to pay.