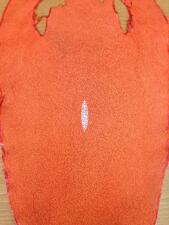 You have decided that stingray skin is for you. Great choice! But where can you get the perfect grade, color, size and finish that you're in the market for? Well you have a variety of options. Of course, we here at Panam Leathers sell some of the finest stingray skin, but we certainly are not the only ones. Here we will break down the different vendors and you can decide which is best for you.
Tanneries:
While we are tanners of most other exotic skins, we don't tan stingray. Most stingray tanneries are in Southeast Asia. There are many of them but fewer good ones so make sure you know who's who. Typically, they don't stock much – almost everything is made to order. For large quantities, their prices can be very competitive if you can wait for the several month delivery timeframe. Buying smaller quantities from stingray skin tanneries doesn't make much sense because they apply sizable surcharges and it doesn't take any less time. For smaller quantities, you are better off working from the stock of either distributors or manufacturers (see below).
Distributors:
Distributors are companies that purchase skins from tanneries and then store them in their warehouses or stores to sell to the public. The good thing about distributors is they keep a variety of stingray skin in stock which means you can walk right out of the store with whatever you need without waiting several weeks or months. Of course, they charge you more than the tannery charged them. If you are looking for a stingray skin that the distributor does not carry in stock, they would need to place a special order with their supplier. This is typically subject to high minimums, long wait times and higher prices than ordering directly from a tannery. Also, a lot can be lost in translation between you, the distributor and their supplier. But distributors usually have dependable sources and long standing relationships with tanneries which should keep them honest.
Manufacturers:
Stingray skin is a difficult product to work with because it is very bony. The manufacturers of handbags, furniture, boots or whatever you are making should have experience working with stingray skin. Assuming that's the case, the manufacturer themselves may have tanneries or distributors that they prefer to work with so they know they get a product that they can work well with at a fair price. In addition, the manufacturer should know exactly how much stingray skin they need in what sizes and grades. If you are ordering a leather sofa, be sure to review over the pattern with the manufacturer to help determine exactly how much fabric they will need in total. Just make sure they don't over-order to make the cutting easier for themselves at your expense.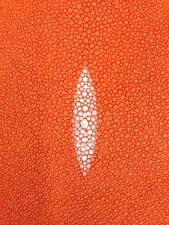 All in all you have several options in terms of where you order your stingray skin from for your desired product. Tanneries, distributors, and manufacturers are all possibilities for your purchase. Find the one that suits you best. Tanneries are a good option for large orders with plenty of lead-time. Distributors make sense if you need something quickly and you don't mind spending a little more for it. Buying from manufacturers can save you some unnecessary headaches. Whatever you decide, we're here to help.