Are you about to embark on your next leather project, but aren't sure where to begin? Once you've made a decision on the type of clothing item or accessory you'll create, the next step is selecting the right leather to turn that idea into a reality.
Depending on what you'll be creating, your needs and the size of your budget, you'll have to take into account several features when choosing the perfect animal skin.

To help you make this step easier, we've broken down the essential qualities of the most popular alligator and crocodile skins — including the Nile crocodile, American croc, American alligator, Caiman, Saltwater croc and Siamese croc.


Nile Croc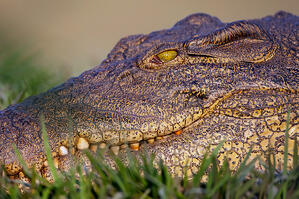 Native to: Africa
Size: 13-15 feet — can reach up to 26 feet
Quantity: 200,000 famed annually
Fun fact(s): Often compared to American Alligator, but serves as the more affordable alternative
Scales: Large & more square than round in shape
Uses: Footwear (especially cowboy boots), handbags & belts


American Crocodile (Acutus)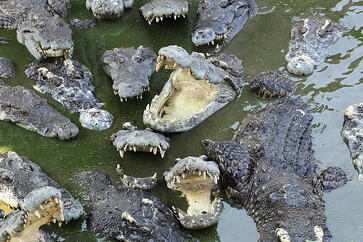 Native to: Central America & northern parts of South America

Fun fact(s):
- Largest reptile in the Americas, yet not permitted within the US
- Narrow flank section & wide belly section
Size: About 14 feet — can reach up to 25 feet
Scales: small to medium size
Uses: Zero bone content makes it perfect for soft leather projects — incl. jackets, pants & skirts


American Alligator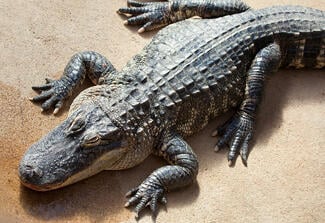 Native to: American southeast
Size: 8-10 feet — can reach up to 20 feet
Quantity: 200,000 farmed annually
Fun fact(s):
- 4th lower-jaw tooth placed inside their mouth
- Almost faced extinction — but saved through "conservation through utilization" efforts
Uses: Wide tail & flexible skin makes it easy for watch-straps & footwear

Caiman Croc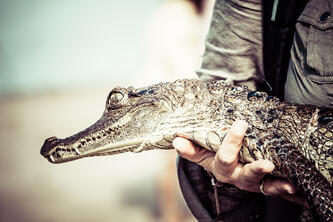 Native to: Central America & northern South America (mostly Colombia)
Size: 4-6 feet — can reach up to 8 feet
Quantity: 600,000 farmed annually
Scales: medium to large in size
Fun fact(s):
- Caiman is cut for its "hornback" (most crocs are cut almost exclusively for belly skin)
- Contains relatively high bone content, making it rigid & harder to bend
- More affordable than alligator or croc skins (due to bony nature & fragile skin)
Uses: Cowboy boots, structured handbags


Saltwater Croc

Native to: Southeast Asia & South Pacific
Size: Between 13 and 15 feet — can reach up to 32 feet
Quantity: 60,000 farmed annually
Fun fact(s):
- LARGEST reptile in the world
- Belly has NO bone content
Uses: High-end handbags & garments (due to its compelling tile pattern & no bone content)


Siamese Croc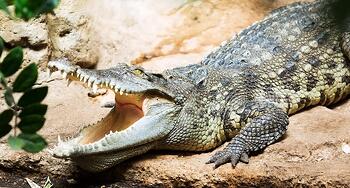 Native to: Southeast Asia
Size: 7-8 feet — can reach up to 13 feet
Quanitity: 60,000 farmed annually
Fun fact(s):
- NOT permitted in US or Europe
- NO bone content
- Often compared to American alligator (due to its supple feel & tiling
Uses: Mostly handbags, accessories & footwear (products where Asian factories have strong expertise)