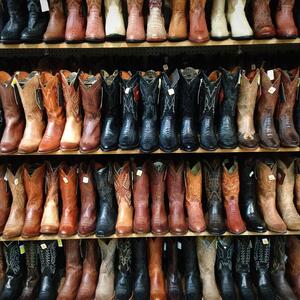 High fashion footwear can be an incredibly lucrative industry for those who can stand out in the crowd of designers. In this industry, not just any project will earn the recognition and notoriety needed to drive success. It takes a perfectly-crafted, distinctive piece of work to stand above the crowd and succeed.
Can you craft the perfect piece of footwear to stand out and garner attention in the footwear industry?
If you're working with exotic leather products such as caiman skin, it's definitely possible to create a unique and appealing piece of footwear. However, it takes a little skill and know-how to use exotic leather to make the perfect caiman boots.
Here are a few tips to help get you started on crafting perfect caiman skin boots:
Tip #1: Use Two Skins Per Two Pair of Boots
When you're working with caiman skin, alligator skin or any other crocodilian skin for that matter, it's important to use two skins (typically 30-36 cm) for each pair of boots, regardless of how big or small the boots are. This is because it's necessary to use two skins to get a consistent appearance in the leather of both boots. One pair of boots is made from matching bellies and another is made from matching tails. By using the same parts of two separate caiman skins for each boot, you can ensure consistency in appearance.
When using alligator skin, you can use one large skin to get both pairs of boots from the belly. But that is typically not preferred because the size of the scales are disproportionate to the size of the boots.
Tip #2: Order Skins from the Same Dye Lot Whenever Possible
Speaking of ensuring consistency, making sure that all of the skins you order come from the same dye lot is a major concern. Sometimes, when skins come from two different dye lots, there can be slight, but noticeable, differences in coloration, even when they use the same type of dye.
This can be attributed to slight variations in dilution of certain dyes or other random factors that influence how well the leather absorbs the dye which may vary from one batch to the next.
Tips #3: Use a Dremel to Thin Out Caiman Hide
Caiman leather is very bony compared to other crocodilian leathers, making it rigid and somewhat difficult to sew. Using a dremel or other tool to thin out the bony portions of the hide can save some wear and tear on your sewing needles, making the skin easier to work with.
Tip #4: Use Leather Conditioner Formulated for Caiman Skin
Leather conditioning agents can help repel dirt, dust, and other contaminants while bringing a shine to exotic leathers such as caiman hide. Using a leather conditioner formulated for crocodile skin can help keep your boots looking like new when on display, increasing their appeal.
Before applying any conditioner to your leather goods for the first time, test the conditioner on a scrap piece of leather or an unseen part of the boot first and let it sit for a few hours. This can help you see how the conditioner may affect the appearance of your footwear.
Tip #5: Working with Lower-Grade Skins
Ideally, you'd want to work with a perfectly-sized Grade I crocodile skin when making exotic leather boots. However, caiman skin is a very popular leather choice for exotic boots, and perfect Grade I skins may be hard to come by.
In such a case, it may be necessary to order larger, Grade II or III skins and work around any defects in the hide. It's perfectly ok to use these skins, but try to make sure that any defects in the hide are located in the same areas so you can pair off your skins.
Normally, boots require skins that are 30-36 cm wide, but you may need even larger skins if you're using the caiman leather for the whole leg of the boot, or are using a lower-grade skin.
Need help with your next exotic leather project? Get some help from an exotic leather expert today!