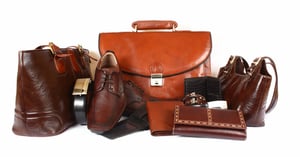 In our previous "Get a Leather Craft Education" article, we talked at length about The Shoe Surgeon School, which focused on the crafting of shoes specifically, and only focused on leather as a portion of the shoemaking process. Today, we're going to be talking about a school closely related to April in Paris, Amblard Leather Atelier.
What is Amblard Leather Atelier?
Amblard Leather Atelier is a school for learning traditional leatherworking techniques that is run by Béatrice Amblard—the owner of the April in Paris boutique and workshop. At this school, students will learn how to work with leather using traditional, hand tool-based processes.
The school is designed to be one-year long, with the first nine months of classes being dedicated to "teach the ins and outs of working with leather exclusively by hand." The other three months are dedicated to learning about leather processing machinery and how to use it.
Class sizes are kept small—limited to 9 or 10 seats per class, so courses can fill up quickly. While the complete curriculum is for a full year, classes are billed by the semester, with each class taking three months individually. Classes are divided into four groups:
Beginner ($3,500). These sessions focus on teaching skills for working with leather by hand. Tools are taught over the course of a series of individual leather projects as students build a basic understanding of how to work with leather.
Intermediate ($4,000). In these classes, students will start to move onto larger projects and learn about bag construction, stitching and finishing techniques.
Advanced ($4,500). The advanced classes feature more complicated work and designs. In addition to increasing the intricacy of designs, students will learn hand skiving techniques and build confidence in their ability to build leather products by hand.
Master ($5,000). This course builds on the previous nine months of lessons from the earlier classes to teach students machine sewing techniques. By the end of this course, students should have all of the skills they need to assemble their own high-quality leather goods.
Additionally, evening classes are available on request for those who cannot attend daytime classes. These are no-commit classes where learners can pick up the skills taught in the beginner class.
Each class meets once a week, with mixed classes taking place on the weekends as well. For those who don't live in the San Francisco Bay area, they offer an accelerated "intensive" curriculum that shortens the class time from one year to mere months or weeks, but there is a surcharge of 10% to 15%, depending on how much the classes are rushed.
The school can be found at: 15 Clement Street, (Between Arguello Blvd. & 2nd Avenue), San Francisco, CA 94118.
Why You Should Attend
The main reason to attend Amblard Leather Atelier is that it's a chance to learn leather craft skills from a real live master of the art in person! Béatrice Amblard is a French-born leather artisan who received training from Hermès after graduating from the Chamber of Commerce and Industry in Paris. She is particularly well-known for her work with handbags, and for her expertise in traditional hand-crafting leather construction methods.
Additionally, Amblard routinely works with exotic leathers such as alligator, lizard, ostrich and stingray skin. This enables her to provide invaluable advice and insight into how to work with these skins for making different high-fashion products.
Interested in learning how to craft high-quality leather products? Consider taking a day out of your week to attend the Amblard Leather Atelier! For more information about exotic leather products, please contact Pan American Leathers today!