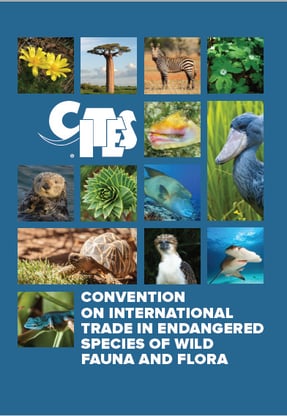 One of the challenges of the exotic skin industry is the nuance of the importing and exporting of these products. Whether you are trading skins themselves or finished products made from exotic skin, you need to be familiar with the rules, regulations and procedures. In this blog series, we will cover the do's and don'ts of the international trade of exotic skins, especially as it pertains to the USA.
CITES
First of all, who regulates the international trade of exotic skins? CITES is the Convention on International Trade in Endangered Species of Wild Fauna and Flora, an international organization with nearly 200 member countries, responsible for ensuring that the international trade of animal and plant species does not threaten their survival. The participating member countries agree to adhere and enforce CITES standards at a minimum through their own agencies. For example, in USA, US Fish and Wildlife is responsible for enforcing CITES standards.
When CITES was first established in the 1960s, many animal and plant species were endangered due to exploitation. Since then, many wildlife species that were once threatened are no longer at risk. Nearly 6,000 species of animals and over 30,000 species of plants are protected from over-exploitation by CITES.
What is Required for the Exporter/Importer?
The first step to lawfully trading CITES-protected species in the US is acquiring a US Fish and Wildlife Import/Export License. Whether you are an individual or a company, you will need a license to trade these products internationally.

Once you have this license, you can begin applying for export permits, export clearances and receiving imports. Each export of Appendix I or II species requires its own export permit. These permits are meant to track the chain of custody of the animals from their origin. Transparency and traceability are key in sustainable trade. The application form and cost is the same, regardless of the size of the shipment. The costs are reasonable given the administrative and regulatory work involved for the governing agencies, but they do tend to be cost prohibitive for smaller shipments
Differences Across Species
CITES species are broken into three categories:
Appendix I contains species threatened with extinction under which trade is only acceptable under extraordinary circumstances.
Appendix II species are not as in danger but must be trade-controlled to prevent exploitation. This category includes about 1,400 animal species and 25,000 plant species.
Appendix III fauna and flora are protected in at least one country, and so CITES countries participate in controlling its trade. There are about 270 animal species and 30 plant species listed under Appendix III.
Exporting products containing specimens from Appendix I and II requires an export permit. For Appendix III species, an export permit is needed if the species is originating from the country that listed it as Appendix III.
CITES also issues re-export licenses for certain species under Appendix II and III. A re-export permit is needed if exporting specimens that were previously imported, whether as skins or finished goods. An example of this would be if skins are exported from USA to Italy, goods are manufactured from the skins in Italy and then those finished goods are re-exported to USA to be sold in stores.
In the coming blog series, we will go into more details on the associated processes and procedures, their costs, the time it takes and the differences across species. Meanwhile, if you have any questions, feel free to contact us anytime.