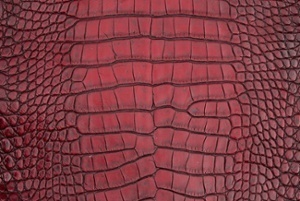 Exotic leathers can add a unique and striking touch to many different high-fashion projects. However, because of their rarity compared to other leathers, it can be hard to find the perfect piece of exotic skin to suit your particular vision.Distributors often only carry a few of the most popular colors and finishes for specific types of exotic leather. So, you might be forced to make compromises—to order something that's close to your vision rather than an exact match. But, do you really need to compromise?
We carry more variation in stock than most places, but even we can't carry everything. But at least, if you can't find exactly what you need, you have the option to customize your order with us directly so you don't have to settle. You get to specify the species, size, grade, color, finish, feel and thickness of the skin so you can make the most specific and unique product out of the leather you wanted.
Reasons to Make Custom Orders from Us
There are a number of benefits to working with Pan American Leathers on your custom exotic leather purchases, including:
Better Communication. When you talk to us, you're talking to the tannery, not a middleman (like you would be with most leather distributors). This means you have a direct channel to the tannery and there's less chance of miscommunication.
Easier Logistics for USA Customers. For our U.S.-based customers, our tannery is located in upstate New York—so you don't have to worry about import/export complications, delays, and exorbitant transportation costs.
You Get the Exact Skin You Want. Because you're able to specify all the details, you'll be able to get the exact skin you need to complete the vision you have for your exotic leather project.
No Minimum Order Size. Whether you just want one custom skin or 100 skins, Pan Am Leathers is here to help! Note: there are certain minimum setup costs for tanning and dyeing skins, so the cost per skin will be higher for smaller orders.
Variety of Skins. Most tanneries specialize in one or two products. We have experienced technicians from all over the world who specialize in a variety of products all under one roof—letting you choose from dozens of different skin types.
Look Forward to More!
We'll continue this topic in future blogs, so be sure to check back for more information about picking a custom skin and how to place a custom skin order with Pan American Leathers.
In a hurry for a high-quality piece of exotic leather? Get the perfect exotic skin for your needs by contacting Pan American Leathers today! Or, browse our online shop to see if we already have the perfect skin for your needs in stock.