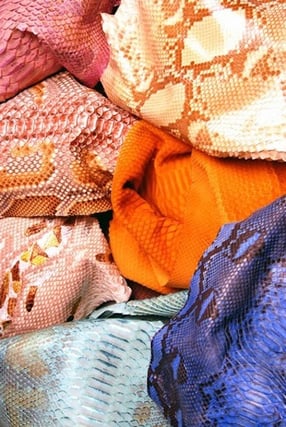 In this blog, we will go over the licenses and permits required to import and export exotic skins in the US. How do you get these licenses? How much do they cost? How long does it take? Is it the same process for every shipment? We will answer all these questions and more below.
Where Do I Start?
The first thing you will need to import or export exotic skins or exotic skin products in the US is a US Fish and Wildlife import/export license. You can either apply for that online here or in hard copy using this form for a US individual or entity or this form for a non-US individual or entity. These licenses cost $100 and take at least 60 calendar days to secure. In our experience, it can get done sooner, but we strongly recommend planning on the 60+ days. They also need to be renewed annually at the same cost. The hard copy applications are full of useful information and fairly self-explanatory. If you apply online, once you are approved, you will receive an email with a PDF file containing your license. If you apply in hard copy, once you are approved, you will receive a mail copy of your license.
Imports
Once you receive your US Fish and Wildlife Import/Export License, you are ready to begin making international shipments. Imports in the US are easy as there is no import permit required for each shipment. You just need to have the license which we described in the section above. To make an import go smoothly, we recommend you send a copy of your import/export license to the exporter for them to include with the shipment. If you are shipping with a courier like DHL, Fedex or UPS, they should handle the 3-177 import/export clearance form. If you are shipping with an airline, your freight forwarder should handle it. If you would like to do it yourself, you can do it in hard copy using the form in the link provided above or electronically here. If you do it electronically, this requires a separate online account from the one you created when you applied for your license. To do it yourself, you will need copies of the invoice, packing list, airway bill, your USFW license and maybe more depending on the specifics of your shipment. Again, the application forms should walk you through it whether online or in hard copy. Also, the 3-177 application fee for USFW is $93. If a broker or courier service does it for you, they may charge you an additional fee for that work. It typically takes less than a week to get clearance.
Exports
Exports require a little extra work. CITES appendix I and II species require a CITES export permit for each shipment, regardless of the size of the shipment. Whether you are shipping a thousand skins or one swatch, you need a CITES export permit. This may be cost prohibitive for smaller shipments both in terms of time and money. As of November 2019, this application cannot be submitted online. It must be done in hard copy using this form. This application must always be accompanied by copies of the invoice, packing list and your USFW license.
For all products of USA origin that have not previously been imported, you will also need the invoices tracing it back to the original USA tagholder (for example, a farmer). Traceability is key to ensuring the prosperity of these species. For products that were previously imported into the US, you will also need to provide a copy of the import documentation, including supplier invoice, packing list, airway bill and the USFW import clearance. Submit all of the required documentation along with the $75 payment to your regional USFW office.
Allow at least 60 days for your application to be processed. It can take less time than this depending on how busy USFW is and the complexity of the application, but it is always best to give yourself plenty of time. Once you receive the export CITES permit by mail, you should check with the importer to see if their country requires an import CITES. Most countries do. If so, you should send them your invoice and export CITES permit so they use it go apply for their import permit. Most countries will provide this in 2-3 weeks.
Once the importer receives their import CITES, have them send it to you so you can include it with the shipment. You can then proceed with the export clearance using the same instructions provided in the import section above. Once you receive export clearance from USFW, you are free to ship.
Notes
The above information is accurate as of November 2019. Please keep in mind that things may change over time. Feel free to contact us or your local USFW contact if you have any questions or concerns.