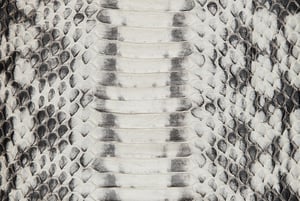 In a previous post, I mentioned the issues with metal-free tanning vs. chrome tanning for exotic leathers. The big issue with vegetable tanning was that—although it was more environmentally-friendly than chrome tanning—it produced hides that lacked certain physical and aesthetic qualities required in the world of luxury leather.
Another issue that limited the adoption of veg-tan by tanneries was that it would require years of development, trial and error testing, and vast investments for most tanneries to switch from the chrome tanning methods they used to a newer vegetable-based tanning method—especially if they wanted to meet the same quality and durability standards as before.
But, what is the current status of metal-free tanning in the exotic leather industry?
Metal Free Tanning in the Exotic Leather Industry
After years of development, we are starting to see the emergence of viable chrome-free leathers with physical and aesthetic qualities that meet international standards. However, they are still a little more expensive because of the costs associated with switching to a new tanning method.
It is expected that these leathers will be refined and prices will come down over time as more tanneries adopt metal-free tanning methods—making the tools and technology for veg-tan more widely accessible.
Over the coming months, Pan American Leathers will begin introducing metal-free exotic skins on a new "Metal-Free" section of our online shops. We appreciate your patience and hope you will enjoy exploring these developments. We also look forward to your feedback about metal-free tanning and the unique benefits of veg-tanned hides vs. chromed hides from your own personal experiences.
You can contact Pan American Leathers directly for more information about our metal-free exotic leather offering, or check back with our blog in the coming weeks as we work on expanding our list of metal-free exotic leathers.