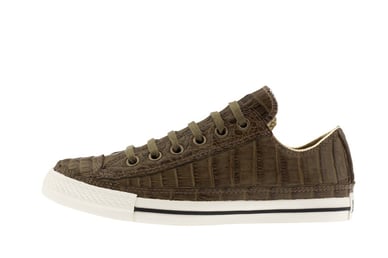 Footwear is one of the most popular uses for exotic leather products—ranking up there with handbags in terms of popularity. However, what kind of skin should you use for your exotic leather shoe or boot project?
Two popular choices for creating exotic leather footwear are American alligator and caiman crocodile skin. Why are these two types of skin so well-suited for making exotic leather shoes? How should you go about choosing the best skin for your needs?
Read on to learn more about the benefits of these skins and to get some tips for using them in a shoe or boot project.
The Top 4 Reasons Why Caiman Skin Is a Great Choice for Exotic Leather Shoes
So, why is Caiman crocodile skin a good fit for making exotic leather shoes? Some of the biggest benefits of this specific type of exotic leather.
Caiman Skin Is a "Budget-Friendly" Exotic Leather
Caiman skin is the entry-level crocodilian leather and is a fraction of the cost of similarly-sized and graded Nile crocodile or American alligator skin, because of its boniness. Although caiman skin is at the bottom of the crocodile skin hierarchy, it's still high in quality and perfect for shoemaking.
Supplies of caiman are also plentiful compared to other high-end exotic leather selections like alligator skin and shell cordovan. This freedom in production translates into getting more usable leather, which gives you more bang for your buck.
Caiman Skin Is a Fashionable and Distinctive Leather
Shoes are often considered to be the signature of an ensemble. When it comes to making a shoe satisfy the rigors of high fashion, that signature needs to be striking.
With caiman skin, you have the choice of using either the belly or the hornback portion of the skin for each pair of shoes. The belly has flatter, smoother scales in the midsection. The hornback (as the name suggests) has the hard horn ridges that are on the back of the caiman skin to protect it. Either way, the ossifications create masculine patterns with vogue textures.
Caiman Skin Has High Durability
Caiman is pliable, smooth, and its bony plates are not only eye-catching, they also add an undeniable durability that makes it ideal for men's shoes. With proper care and conditioning, the threat of creasing and cracking are reduced significantly. The small scales of the caiman make it easier to work with.
An added plus for using caiman is the variety of finishes available in stock. This versatile leather comes in matte, suede, glazed, metallic and iridescent finishes.
Caiman Skin Can Be a Lucrative Material Choice
According to Statista, the "Textile & Other Footwear" market is worth roughly $140.4 billion in 2023—making it worth nearly a third of the overall global footwear market (valued at $398.4 billion).
Caiman skin gives a competitive edge by providing that expensive, high-end look without being as expensive as American alligator skin. This helps you get higher returns when using this lower-cost exotic leather.
As mentioned earlier, Caiman skin has a similar appearance to more expensive varieties of crocodile and alligator skin. This advantage gives you lower production cost while making unique and distinctive shoes that are comparable to skins that are two to five times the price. Creating exquisite shoes with less pricey production is a win-win for both you and your clients.
Choosing a Crocodile Skin for an Exotic Leather Shoe Project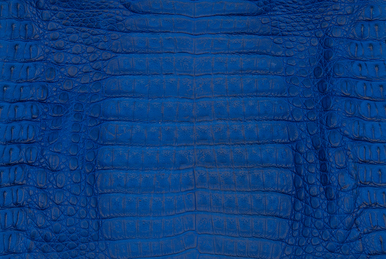 Crocodile skin is one of the most exquisite leathers for crafting exotic leather shoes. If you want to make a statement with your shoe designs, crocodile flanks will give you stunning textures and scale patterns.
Here are some tips for working with exotic leathers for your shoe designs that can help you get the most from your crocodile flanks and highest consistency in texture matching so that your shoe designs will always be one step ahead of the competition:
Picking Your Crocodile Flanks
When you're making shoes with these fine crocodile skins, it is important to choose the ideal flanks. For each pair of shoes, you will need 1.5+ square foot flanks, one right flank and one left flank. The advantage of using crocodile flanks to a full crocodile skin is that the flanks allow you to have uniformity of shape and size of scales with very little waste.
Knowing Your Crocodiles
Out of the 23 different species of crocodiles, three of the most sought-after skins are: Caiman skin, Nile crocodile skin and the American alligator skin. Here's a quick breakdown of the benefits of each:
The Caiman 1) Stocked in 20-30 colors. 2) Least Expensive 3) Boniest so the most difficult to work with 4) Bred in Central America and South America. 5) Most flanks used for footwear come from large wild caiman skin, where the belly was too damaged to use. In this case, the tails and the flanks are merchandised separately.
The Nile Crocodile 1) Stocked in 10-20 colors. 2) Typically, more expensive than the caiman skin but less expensive than the American alligator skin. 3) Less bony and considerably easier to work with than the caiman skin.
The American Alligator 1) Stocked in 20-30 colors. 2) This is the most expensive of these three types of crocodiles. 3) Supple and luxurious texture. 4) Wider tails than the Nile crocodile so more usable for pairs of shoes. 5) Bred in U.S.A.
Where the flanks are cut from on the crocodile will determine texture. The hornback—the section along the back of the crocodile— provides bold/striking patterns. Meanwhile, flanks cut from the belly will provide softer, smoother textures.
While crocodile is less expensive than alligator, there are some trade-offs. The highly texturized flanks mean there are higher concentrations of calcium deposits. While these striking patterns give you some great options for shoe designs, you will need to dremel the skin to prevent your needles from breaking repeatedly. The biggest upside of designing exotic leather men's shoes with crocodile flanks is the uniqueness they create for your high-end shoes.
Once you've decided to use exotic crocodile skins, the flanks must be picked in pairs to ensure that your shoes match in texture.
Pro Tip for Maintaining Crocodile Leather Shoes: Conditioning
What makes crocodile skins beautiful is also what makes them need a good conditioner. Crocodile is a skin in every sense of the word. Conditioning the skin keeps it protected from the over-absorption of water, drying and cracking.
The conditioner's purpose is to nurture the skin and keep it supple and shiny. Conditioners keep the skin's flexibility by sealing in needed natural oils and moisture, preserving that exotic glossy look.
It's equally important to test the conditioner first. Putting a small amount of conditioner on a piece of scrap to see how it reacts will work nicely for this purpose.
Using Alligator Belly Skin for Exotic Leather Shoes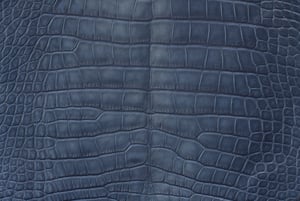 If you have more room in your budget, alligator skin is one of the top choices for creating striking, high-end leather shoes and boots that really stand out from more common cow/pig hide products.
Alligator skin is, hands down, one of the most luxurious and exclusive exotic leathers you can get for making men's shoes. The high demand and short supply of alligator skin in general makes it difficult and expensive to acquire, but worth every penny if you really want to make the best shoe and have as little waste as you possibly can.
Here are a few tips for using alligator skin for men's shoes that can help you make a truly top-notch product to outshine the competition:
Picking Your Alligator Skin
When you're making men's shoes, you'll usually want to use grade 2 or 3 alligator skin that's about 30 – 36 cm wide. This usually provides the most economical option when ordering alligator skin. Also, they're often easier to get than the pristine, grade 1 skins.
One caveat of ordering grade 2 and 3 skins is that you'll want to make sure that any marks in the hide are in places you can work around when making your panels for the shoes. This usually isn't too difficult with skins this size.
Be sure to always order alligator skins in pairs when making shoes so you can use similar belly scales for both shoes—otherwise, you could end up having to use belly scales for one shoe, and tail skin for the other, creating an unattractive, mismatched appearance.
Consider Using Alligator Tails
Your alligator skin will have a tail. Considering how valuable alligator skin can be, it's important not to let it go to waste.
Generally speaking, there are two ways to use the alligator tail when you're using the belly for men's shoes:
To Make a Second Pair of Shoes. You could use the extra skin from the tails of two alligator hides to make a second pair of shoes to offset the others. Naturally, these shoes will have a slightly different scale pattern since the pattern on the tails is different than the pattern on the bellies.
To Make Belts. If you are only making one pair or are making an odd number of pairs and you have tail left over, the long, narrow tail portion of an alligator hide can also make a very good high-fashion belt that will match the shoes perfectly.
Some designers do both, alternating between making shoes and making belts out of the tails so that there's an equal number of belts and shoe pairs. For example, say you have 8 skins. You could make 8 pairs of shoes (4 belly pairs, 4 tail pairs) 4 pairs of shoes and 8 belts (4 belly pairs, and 8 tail belts), 6 pairs of shoes and 4 belts (4 belly pairs, 2 tail pairs, and 4 tails for belts) or any combination in between.
Matching Up Panels Between Skin Pairs
To get a consistent look in each pair of shoes you make, it's important to mirror your panels from one skin to the next. If you use the top of the belly to make a shoe vamp for the left shoe, that same piece of skin should be used for the vamp of the right shoe.
This also means that when you're pairing up skins for making shoes, you'll want to make sure that any defects on the alligator skin are in similar locations so you can work around them in the same way for each shoe in the pair.
Consider Applying Alligator Leather Conditioner to the Finished Product
Alligator leather is well-known for its exceptional softness and flexibility—far more so than many other crocodilian species' skins. However, like with crocodile leather, it still needs to be properly cared for.
Specialized exotic leather conditioners formulated for alligator skin can help you prevent crease marks and preserve the glossy exterior of the leather.
If you use alligator leather conditioner on your men's shoes, be sure to test in on a small, innocuous part of the shoe first to see how it affects the appearance of the leather first. In some cases, the conditioner may alter the appearance of the leather in a way you might not expect. Leather scraps that you have on hand might make for a good way to test a new leather conditioner so you don't risk marring the finish of leather you plan on using for a shoe.
Contact Pan American Leathers for an Appointment at Our Showroom
If you and your clientele insist on only the best luxury exotic leathers, we'll be happy to show you varying sizes and grades of exotic skin at our New York showroom. Feel free to make an appointment with us.