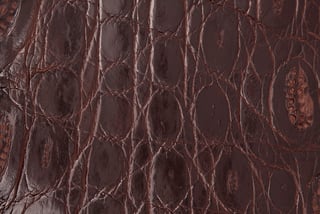 Crocodile skin is one of the most exquisite leathers for crafting exotic leather shoes. If you want to make a statement with your shoe designs, crocodile flanks will give you stunning textures and scale patterns.Here are some tips for working with exotic leathers for your shoe designs that can help you get the most from your crocodile flanks and highest consistency in texture matching so that your shoe designs will always be one step ahead of the competition:
Picking Your Crocodile Flanks
When you're making shoes with these fine crocodile skins, it is important to choose the ideal flanks. For each pair of shoes, you will need 1.5+ square foot flanks, one right flank and one left flank. The advantage of using crocodile flanks to a full crocodile skin is that the flanks allow you to have uniformity of shape and size of scales with very little waste.
Knowing Your Crocodiles
Out of the 23 different species of crocodiles, three of the most sought after skins are: caiman skin, Nile crocodile skin and the American alligator skin.
The Caiman 1) Stocked in 20-30 colors. 2) Least Expensive 3) Boniest so the most difficult to work with 4) Bred in Central America and South America. 5) Most flanks used for footwear come from large wild caiman skin, where the belly was too damaged to use. In this case, the tails and the flanks are merchandised separately.
The Nile Crocodile 1) Stocked in 10-20 colors. 2) Typically, more expensive than the caiman skin but less expensive than the American alligator skin. 3) Less bony and considerably easier to work with than the caiman skin. 4. Bred in Africa.
The American Alligator 1) Stocked in 20-30 colors. 2) Most expensive of these three types of crocodiles. 3) Supple and luxurious texture. 4) Wider tails than the Nile crocodile so more usable for pairs of shoes. 5)Bred in U.S.A.
Where the flanks are cut from on the crocodile will determine texture. The hornback - the section along the back of the crocodile - provides bold/striking patterns. Whereas flanks cut from the belly will provide softer, smoother textures.
While crocodile is less expensive than alligator, there are some trade-offs. The highly texturized flanks mean there are higher concentrations of calcium deposits. While this gives great options for shoe designs, because of these striking patterns, you will need to dremel the skin to prevent your needles from breaking repeatedly. The biggest upside of designing exotic leather men's shoes with crocodile flanks is the uniqueness they create for your high-end shoes.
Once you've decided to use exotic crocodile skins, the flanks must be picked in pairs to assure that your shoes match in texture.
The Importance of Conditioning Your Exotic Leather Shoes
What makes crocodile skins beautiful is also what makes them need a good conditioner. Crocodile is a skin in every sense of the word. Conditioning the skin keeps it protected from the over-absorption of water, drying and cracking. Conditioners purpose is to nurture the skin and keep it supple and shiny. Conditioners keep the skin's flexibility by sealing in needed natural oils and moisture, preserving that exotic glossy look. Equally important is to test the conditioner first. On a piece of scrap will work nicely.
When it comes to designing exotic leather shoes, your choices of skins comes down to budget and preferences. How to get these skins comes down to time and selection. Distributors offer fast shipping, manufactures offer intermediary services, but Pan American Leather, Inc. provides the best selections and excellent customer service.
Have questions about your exotic leather needs? Pan American Leathers is here to help TODAY!