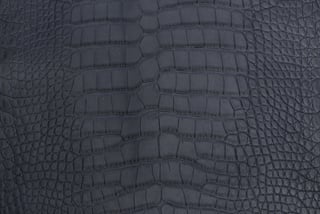 When Nikola Tesla was busy putting wires together, he probably never imagined that someday, alongside memes, electronics would dominate almost every facet of human existence. In his defense, neither did most people. Now, we are faced with the challenge to not only have top notch electronics, but we also have to figure out ways to be stylish as we keep them secure and intact.
The need for conveniently securing your devices has mostly been satisfied by the emergence of silicone and faux leather cases. However, the more style-conscious gadget user wants to take it up a smidge—that is where exotic leathers such as alligator skin come in.
Uses
Alligator skin has the right combination of qualities to make classy, durable, pleasing-to-look at accessory cases. With this combination of color, just enough smoothness and flawless leather bands together, the result raises the profile of your phone case, your wallet, wristlet or camera bag.
Since it doesn't take a lot of skin to make the cases, you can use the remainder for other small leather goods like card cases and watch bands.
Why Use Alligator Leather
Accessories are meant to be handy, literally and figuratively. For that reason, designers have figured out a way to make alligator skin both appealing and convenient. Here are some reasons why you should give your accessories exotic treatment:
1. Appealing look
Alligator skin is often confused with crocodile skin. The aesthetic ambiguity aside, it is easy to see how an untrained eye would fail to notice the difference between scale patterns of the two skins. The skin has large rectangular scales that are almost symmetrical. Given the design of most accessories, the look should fit right in with your equally classy attire.
2. Just the right size
For small leather items, alligator skin is more than large enough. Even a small, farmed alligator skin should fit approximately 10 phone cases (using an iphone 7 as the standard size). Also, the small alligator skins have scales that are just the right size: they are large enough so they are distinctly genuine alligator skin, but no so large that they outsize a small leather good like a phone case.
3. Color options
Your accessory speaks for you, either in casual settings or more formal settings. The flat scales of the alligator skin dye up richly and uniformly into any color.
4. Luxurious feel
The exotic leather market always appreciates a skin that can feel plush on the palm. Alligator skin, thanks to its sheen and flat scaling, speaks to the luxury crowd; they that like subtle yet classy grips. For the mobile crowd, alligator skin has just the right amount of contouring and smoothness to make for a thrilling experience every time.
5. Ease of use
Exotic skin manufacturers are always on the lookout for skin that's supple enough to work with easily. Gator skin is smoother than crocodile skin, making it a breeze to work with when designing and wrapping panels around the edge of a phone. Of the 23 other crocodilian species, alligator skin is one of the least bony. This factor often comes in handy when you need to work around edges during the manufacture of small accessories. They also have wider tails which means you get more phone cases out of each skin.
The Ideal Alligator Skin
Buying alligator skin can be a tricky affair. Lucky for you, selecting the best gator skin for accessories only requires a keen eye and a careful touch. Here are a few qualities that will help you select alligator skin for accessories that fit your taste and budget.
1. Grading
The final look on any accessory alligator leather depends heavily on grading. Typically, products that require large single panels, require Grade I and II. However, for smaller accessories, using Grade III or IV skins may work fine since you can work around the flaws. These grades of skin are also usually easier to source since Grade I-II skins are in such high demand for other applications.
2. Size
Exotic skins such as alligator rank high in the market and fetch more than decent prices. To that end, maximizing on the size is the secret to keeping some production costs low. For the ideal phone case, a skilled craftsperson uses an approximately 30 cm skin. A skin this size yields the right combination of phone cases per skin and scale size.
Alligator leather ranks high in exotic leathers thanks to its outstanding features. You can find the right fit for your accessories right here!