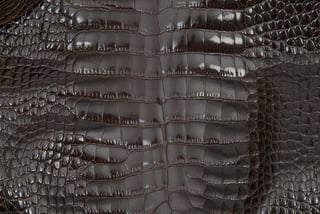 For the sneaker enthusiast who will spare no expense, alligator skin is for you. Exotic leathers in general give you some pop, but alligator skin adds comfort and ultra luxury.
The alligator skin makes for a special pair of sneakers, but they come at a high price so read below to make sure you know what you are doing.
Why Alligator Skin?

The alligator skin has little bone, unlike some other crocodilian species which have rigid hides. Its tenderness eases stitching and it readily absorbs dyes for a consistent finish.
The alligator's belly skin is soft, smooth and flexible—making it the best choice to many enthusiasts who are designing exotic leather shoes. Due to the superior quality and the plush look of alligator skin, the dynamics of its supply/demand make the price exclusive. To that end, alligator skin sneakers are reserved for high rollers.
Skin Selection
Grade I alligator skin are as rare as they are flawless. Sneakers don't require grade I skins because you can cut your small panels around the defects. Also, opt for Grade II and III skins because of they are more readily availability. The most cost-effective option when purchasing alligator skin for a full pair of sneakers is to order two pieces of corresponding skin with each measuring 30cm to 34 cm wide. Depending on the design, suitable width ranges between 25cm and 39cm. Such sizes allow for a touch up on any undesirable qualities on the leather's surface.
Always order similar alligator skins in twos to get a matching pair of shoes. If for instance, you make one shoe with belly skin and the other with a tail, the final product will look awkward since the scale patterns on each shoe will be different.
Cutting the Skin
The parts of your pair of shoes must be consistent. The left shoe should mirror the right shoe. If you choose to use a belly for the vamp, both shoes should have the same skin for that part. If the leather has some flaws, it is advisable to use the defective area on the same part for both shoes. This artistic craftsmanship ensures that similar shoe sections will appear the same after treatment.
Utilizing Leftovers
In most cases, the alligator skin comes with a tail. Therefore, you are likely to remain with two tails for each pair of shoes you make. Due to the high price of the alligator skin, you would want to utilize it to the maximum. To make the best use of the alligator skin, you can use the remains in one of the following three ways:
You can use two tails to make another pair of shoes. Footwear made from the tail is different from belly skin shoes since they have different distinct patterns.
If you don't want more shoes or you remain with only one tail, you can opt to make a stylish belt to match with the shoes. Making a belt should be easy since the tail is elongated.
If the surplus pieces are too small to make shoes or a matching belt, you can consider making smaller accessories like card cases and watch straps.
Alligator Shoe Care
The alligator skin requires special exotic conditioners meant for the alligator skin to retain the natural sheen of the surface. Some conditioners may unexpectedly affect the appearance of the leather, though.
Before applying the conditioner on your sneakers, it is advisable to first test it on leather remains to avoid costly mishaps. If you do not have any scraps, you can apply it on a small portion of a hidden part of the shoe and evaluate the results.
Storage Tips
Here are a few tips to observe to preserve the glamor of your alligator skin footwear:
Keep your alligator skin sneakers in a cool and dry place. A shoe closet is a great start. Avoid humidity prone areas of the house like basements and some attics.
Protect your shoes from direct sunlight or other direct heat sources. High temperature dries leather products, damaging them and fading the dye.
Do not stack the shoes directly. The soles and decorative parts of other shoes can ruin the finish of your footwear – a silly mistake for such a price.
The manufacture of alligator skin sneakers takes a committed investment, resource-wise. Therefore, you should observe strict measures to keep your treasured shoes in mint condition. With appropriate care for alligator leather shoes, such footwear can last for years.