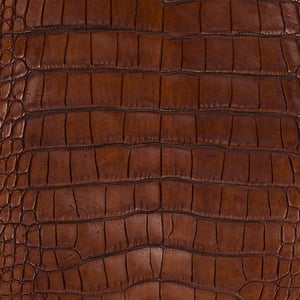 Motorcycle fanatics invest many hours of their lives improving their bikes so that they look as voguish and as unique as possible. A sure way of making your bike stand out is modifying the seat with a custom seat cover using an exotic material.
Most manufacturers make motorcycle seats using regular commercial grade black leather. With a little creativity, you can make your bike the envy of other riders by replacing the standard black cowhide or synthetic leather seat cover with a classy alligator skin seat.
There are many reasons why American alligator leather is ideal for custom-made motorcycle seats. Here are some of them:
#1: Abundant Working Area
Alligators can grow to several meters when they reach maturity. Therefore, they provide large skins which can easily complete a small project such as a bike seat cover with minimal cutting and sewing. The belly square cut of an average alligator used for seats is about 25" x 25". The tail can be as long as 60 inches and 20 inches wide.
Furthermore, having different textures and patterns on the alligator skin allows you to experiment with designs, enabling you to come up with a unique seat cover.
#2: High Aesthetic Value
The large wild alligator looks rough and tough. This appearance makes the alligator skin a perfect high-fashion material for motorbike seats for bikers with an attitude to match. The riding community is the embodiment of edge and masculinity, and the gator's skin is the perfect mascot.
#3: Large, Masculine Scales
With motorcycles, appearance is a crucial element of the lifestyle. Top of the agenda for bikers is the reputation and the look of strength and toughness. These are qualities that alligator skin possesses in the extreme.
#4: American Style
Because alligators are native to America, customizing your bike seat cover with an alligator skin makes the motorbike to appear more American. It promotes the pride of owning an American motorcycle improved with an exclusive American exotic skin; making you the All-American rider.
#5: Smoothness and Softness
You would like to be on the open road as long as possible, while still being comfortable. Unsurprisingly, the bike seat plays a crucial role in determining whether you will have a comfortable trip. The seat cover material should serve two purposes; make sure you are as comfortable as possible and provide just enough traction just in case the ride gets a little bumpy.
The alligator's skin grants you all the comfort you need since it is smooth, soft and flexible. If your seat is properly cushioned, you can ride for hours on end in comfort and not have to change seat covers.
That aside, working with alligator leather is straightforward. The softness allows you to cut it perfectly and to sew without breaking or bending your needles. The flexibility plays a significant role in shaping the seat cover and ensuring that it remains in the desired form. You will appreciate the softness of the cover for, if nothing else, ease of cleaning.
#6: Durability
With proper care, an alligator skin lasts for many years without getting damaged. Aligator skin is incredibly supple and durable. Not only does it maintain its look, but it fares rather well against the elements.
You can consult your dealer to recommend a suitable conditioner for your motorcycle seat to increase its longevity. If you have to apply any products, it is advisable to experiment them on leftover leather pieces and evaluate the results to avoid ruining your seat cover.
#7: Dye Absorption
The skin of an alligator readily absorbs dyes. Like other exotic leathers, the alligator skin's ability to absorb dye makes it a top find for the biker with an eye for more color. You can experiment different shades and hues on the leather and come up with an intricate finish which you are less likely to find with other leathers.
Alligator skin motorcycle seats are unique and prestigious. These properties make your bike irresistible to riders. Due to the skin's ability to balance elegance, comfort, and durability, the leather outdoes many of the other materials designers have ever used to make motorbike seats.
If you can acquire an alligator skin for motorcycle seats, go for it. The value you will get from the end product will exceed the cost and effort used to purchase the skin. Furthermore, you will have an easier time working on the project than in the case of using cheaper exotic leather options.