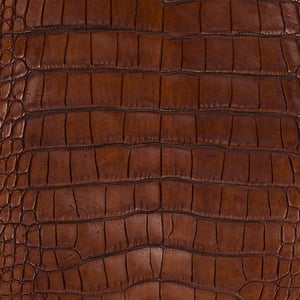 Biker fashion is in, and while many are trying to look the part, some of the same trends are in for those who live the part and that means exotic leathers.
Motorcycle enthusiasts invest hours of their lives customizing their motorcycles for a turn-your-head sound, style, and look. And once you've mastered the mechanics of the ride, the paint job, the grips, the lights, the pipes, and tires, the proper balance of form and fashion still demands more. A sure way of making your bike stand out is modifying the seat with a custom seat cover using an exotic leather.
Most manufacturers make motorcycle seats using regular commercial grade black leather. With a little creativity, you can make your bike the envy of other riders by replacing the standard black cowhide or synthetic leather seat cover with a classy alligator skin seat.
Why Choose Alligator Skin To Customize Your Motorcycle
Choosing the American alligator leather is about more than the look. Of course, colors like matte red can be attention grabbing and glazed black really catches the eye, but, much like your bike, it's about more than the way it looks.
#1: Abundant Working Area
Alligators can grow to several meters when they reach maturity. Therefore, alligator leather can easily complete a small project, such as a bike seat cover, with minimal cutting and sewing.
For example, the belly square cut of an average alligator used for seats is about 25" x 25".
#2: High Aesthetic Value
The sheen and pattern of alligator skin gives it a beautiful and recognizable appearance. It's what makes alligator skin products popular in high-fashion, including everything from wearables to accessories.
But it's more than pretty. The large wild alligator looks rough and tough, perfect for bikers with an attitude to match.
#3: Large, Masculine Scales
The riding community is the embodiment of edge and masculinity, and the alligator is the perfect mascot. Adorning one's ride with alligator leather seems a perfect pairing.
With motorcycles, appearance is a crucial element of the lifestyle, and one's bike is a reflection of the rider. It should mirror the strength and toughness of the rider and withstand life on the road. In a world of exotic leathers, alligator skin possesses and expresses those attributes.
#4: American Style
In a world of bikes, few stand out quite like the All-American Harley Davidson. In part, the brand was able to tap into the spirit of the road, its freedom, and the expansiveness that captures the American spirit. Bikers may exist world over, but the culture is distinctly American.

Because alligators are native to America, customizing your bike seat cover with an alligator skin can make the motorbike appear more American. It promotes the pride of owning an American motorcycle improved with an exclusive American exotic skin, making you the All-American rider.
#5: Smoothness and Softness
As tough as riders look, long trips on the open road require comfort. Unsurprisingly, the bike seat plays a crucial role in determining comfort, but its secondary role, creating traction in case of a rough ride, is equally important.
Alligator skin is known for being smooth, soft, and flexible, making it perfect for a motorcycle seat. Still, the use of alligator hide means riders also get the friction and traction they need from an exotic leather.
For those working with alligator leather, the softness allows it to be cut perfectly and sewn without breaking or bending needles. Its flexibility plays a significant role in shaping the seat cover and ensuring that it remains in the desired form. Riders and designers alike appreciate the softness of the cover for, if nothing else, ease of cleaning.
#6: Durability
With proper care, alligator skin products last for many years without getting damaged. Alligator leather is incredibly supple and durable. Not only does it maintain its look, but it fares rather well against the elements.
You can consult your dealer to recommend a suitable conditioner for your motorcycle seat to increase its longevity. If you have to apply any products, it is advisable to experiment with them on leftover leather pieces and evaluate the results to avoid ruining your seat cover.
#7: Dye Absorption
Like other exotic leathers, alligator leather readily absorbs dye, which, when it comes to bike customization, can do wonders. You can experiment different shades and hues on the leather and come up with an intricate finish you are less likely to find with other leathers.
For example, some of the most unique alligator skin leathers we sell include:
As you can see, the dye options for your alligator skin and leather products can provide an exciting variety of colors that fit your personality and the aesthetic you want for your motorcycle.
How to Customize Your Motorcycle with Alligator Leather
A custom alligator leather seat is one way to customize your bike, but alligator leather can be used in other ways to meet form, function, and style. The same qualities and characteristics that make alligator skin perfect for your bike seat also make it perfect for these applications.
Alligator Leather Saddle Bags
For riders who are looking to take multi-day trips, but travel light, saddle bags or panniers are the perfect bike accessory, especially for people who want non-cruising style bikes. Saddle bags allow you to pack the essentials. Alligator skin keeps your gear dry and protected and your bike looking good.
Alligator Skin Boots
Boots are an essential part of biking gear and need to be tough and durable. Further, much like an alligator hide seat, they're soft and supple enough to be comfortable.
Between the comfort and durability, they can be worn for a long time. And, if you've got an appreciation for flair and style, alligator skin boots are, literally, a perfect fit.
Alligator Leather Jacket
Like motorcycle boots, a leather jacket is essential for protecting a rider from the elements. All of alligator skin's characteristics make it ideal for this. It's durable and tough, but supple enough to provide mobility when and where it's needed.
Find the Right Alligator Skin For Your Motorcycle Seats
Alligator skin products are unique and prestigious, especially when looking for ways to customize your motorcycle. Due to the skin's ability to balance elegance, comfort, and durability, the leather outdoes many of the other materials designers have ever used to make motorcycle products.
The value riders will get from the end product will exceed the cost and effort used to purchase alligator skin products. Those producing alligator leather products will also have an easier time working on the project, especially in comparison to cheaper exotic leathers. If you're ready to talk about how we can add alligator skin products to your product line or portfolio, let's talk.