Recently, we've talked about a few ideas for exotic leather-based interior design projects, but what notable designers and studios have made their popular projects out of exotic leathers? Not just handbags, shoes, and other common uses, but large centerpiece items that become the highlight of a design project.
To help inspire your next big project, we're listing a couple of design projects by some major contemporary designers and design companies that made them.
Martyn Lawrence-Bullard:
A former actor from Kent, Martyn Lawrence-Bullard is now a big name in Hollywood circles, having done designs for famous clients such as Elton John and Cher.
Big-name celebrities like Elton John are always looking to obtain homes and living spaces that not only stand out, but really speak to their personalities. This is one of the reasons why designers such as Martyn Lawrence-Bullard use exotic leather in their designs.
When designing Elton John's Python-skin bedframe, Martyn decided to use the elegant and luxurious skin of the python to create a one-of-a-kind bedframe that not only stood out from the traditional bed, but also spoke to his client's unique personality and sense of style.
Martyn's choice to keep the natural colors of the python's scales intact was a truly inspired choice. The natural coloration of the python skin actually meshes with the flooring well, without clashing with color of the walls.
TopCar Premium Auto-Tuners: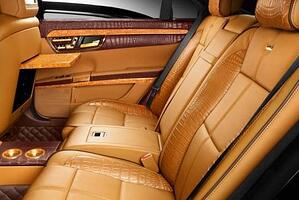 Of course, interior decoration can be for more than the home. TopCar, a premium auto-tuner company based out of Russia, has been creating top-of-the-line modifications and interior decorations for high-end cars for years now.
One of their recent pieces of luxury work involved creating custom alligator skin interiors for the Mercedes-Benz S600 Guard line of cars. These cars, which are designed to cater to the needs of the rich and powerful, boast bullet-proof glass, an armored frame, and an outwardly-plain look.
The modest exterior of these cars is meant to avoid drawing attention, but just because the outsides of these vehicles are plain doesn't mean that the insides have to be. As shown on luxury article sites such as bornrich.com, the interior design of the S600 can be quite luxurious, once a top-rate designer has had the chance to rework it.
The deep browns of the alligator skin compliment the lighter tans of the rest of the luxury leathers and the rich gold decorations well, providing a color contrast that still fits in the overall color scheme. Overall, the alligator skin highlights in this vehicle have transformed the interior into something truly luxurious, beautiful, and unique.
Build a Better Interior with Exotic Leather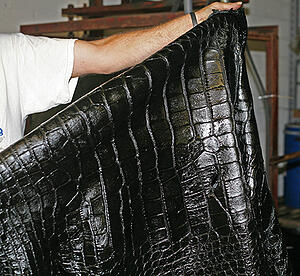 Using exotic leather in your interior design can make your project really stand out and attract attention, whether you're designing for a home, an office, a car, a motorcycle, a yacht, a jet or whatever else. Not only are exotic leathers such as alligator and python skin attractive, they are highly effective as status symbols.
Design clients love to feel like they're getting the royal treatment, and exotic leather can provide that feeling in spades. These durable and beautiful leathers are a great addition to your interior design that clients will love. Make your next interior decoration job one that your clients won't forget by creating something unique and gorgeous out of exotic leather.
To learn more about how you can create with exotic leather, or for help with your order, contact us today. Pan American Leathers, Inc. has been helping designers with their exotic leather projects for years, which includes some of the world's leading fashion and design houses. Our team of leather experts has the experience and the know-how to help you make the most out of your next exotic leather purchase.