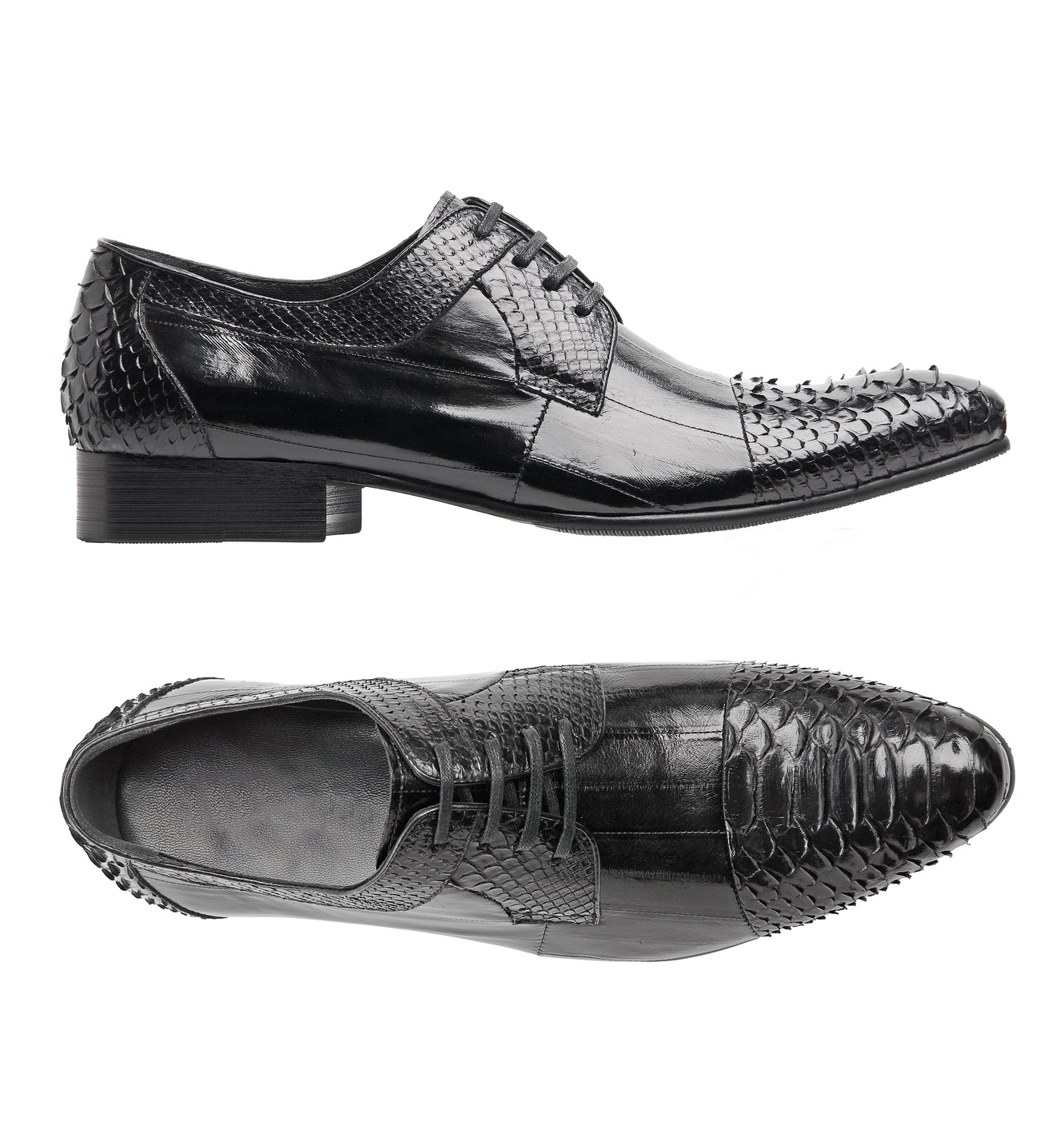 Want to take a walk on the exotic side? When you are looking for a material that will give shoes a stylish up-scale look, there is only one choice that is exciting enough to grab your customer's eyes. Alligator leather is a durable material that is beginning to gain popularity with buyers who are daring enough to be different.
Alligator leather is a product known for luxury. It's becoming a commodity that is popular with designers that want to invest in an material that will last for ages. Plus, a quality-made pair of shoes made from alligator leather can sell for well over a grand, which means high profits for manufacturers and stores alike.
Alligator leather makes great men's or women's dress shoes. There has been an increased demand for this product in the market for its lasting qualities and opulent look.
As well as being known for its aesthetic appeal, the product is also known for having a great feel. Alligator leather has a soft, smooth touch that's hard to find in any other material. However, there are some unique considerations to think about when purchasing alligator leather for your company's footwear.
The Richness of American Alligator Leather
The American Alligator is the Rolls Royce of leather richness. The least bony of the different crocodilian skins on the market, the texture of the American alligator is unbeatable. This is arguably one of the most luxurious leathers you can get. It's noted for its smooth, consistent scales. Alligatore scales are also more noticeably circular than other leather options. Most of the time, the skin that is used is taken from the belly of the animal. The belly usually makes for the most consistent, defect-free leather.
Buying Quality Leather
Even though you're going for a high quality look, it doesn't mean you need the highest priced product. For shoes, a grade 2 or 3 alligator skin is usually safe to use for most footwear styles. The important thing to remember if you choose a grade 2 or 3 skin is to take a look at the defects of the product and make sure that they are in out-of-sight places. Here are some unique factors to consider when buying alligator leather for your footwear:
The price of an alligator's skin is related to its grade. One benefit of making shoes from this material is that they can be made from a grade 2 or 3 skins, which aren't quite as expensive as grade 1 skins.

It's important to buy the skin in pairs for your shoes. Even if you're making one pair of shoes, it is essential that two skins are used. One pair of footwear should come from the bellies of the gators and the other pair should use skin from the tails. This way, none of the leather goes to waste. The rest of it can be used for foxing of the shoe.

The skin from the underside and tail of the two gators should be similar to one another. Here, you're really trying to make sure the size of the scales are close to each other in appearance. High-quality leather pairs of footwear will be extremely similar in pattern. After choosing the grade of skin you'd like to purchase, you can then move onto choosing a finish.
The Price to Pay for Quality Alligator Leather
The two primary deciding factors of price are:
Grade: The standard of grading starts at 1 (best) to 4 (most defects). The basis for the grade comes from a number of criteria. The first thing to look at is how many scratches, holes, inconsistencies or blemishes are present. In order to be considered a grade 1 skin, there must not be any defects present on any area of skin. A grade 2 has defects present in one quadrant and grade 3 has them in two quadrants. Typically, grade 2 and 3 are used for footwear. The last grade of gator has issues in three quadrants of the gator and is usually reserved for accessories, such as belts.

Next, the grader looks at the size and shape of the skin. The larger the gator, the better the grade. Typically, the skin is measured in centimeters starting at the widest part of it's underside. For shoes, you will need about 20-29 centimeters for a piece of footwear.
Pam American Leader in Leathers
If you want to invest in a quality product that will drive your shoe sales, alligator leather is a great option. Every article created from it is unique. Sure, it may take some time to determine the right choice for you, but the results are well worth it. Pan American Leathers has been an industry powerhouse since 1984 and continues to serve excellent leather products. For more information on this product, contact Pan American Leathers directly.