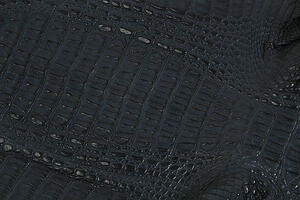 In many of our recent posts, we've discussed the use of crocodilian skins for leather accessories and fashion wear, particularly for handbags and boots. Today, Pan American Leathers is proud to announce that we have added both Nile crocodile and caiman hornback skins to our shop page!
These popular crocodile hides are the perfect way to create a truly memorable and one of a kind design for a variety of fashion accessories.
Uses for Caiman Hornback Skins
Caiman hornback skins are ideal for the following uses:
Automotive accessories. Caiman skin is often used in car upholstery and other accessories.

Handbags. Caiman hornback skins lend a strong patterned look to handbags, ensuring look that is unique and striking in handbags.

Boots. For western-style boots, few exotic leathers are as ideally suited to the task as caiman hornback skins.

Home decoration/furniture. When a design client wants to create a memorable living space that guests will talk about for months to come, exotic leathers such as caiman hornback skin are perfect for creating a lasting first impression.
Caiman hornback skin prominently features the ridges and heavy scales of the caiman for all to see. This emphasis on texture and pattern creates a strong impression on those who see it.
What to Use Nile crocodile Skin for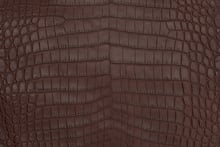 Nile crocodile skin is a luxurious and beautiful material for any high fashion project.
For the most part, Nile crocodile skins are useful for all of the same applications that caiman crocodile skins can be used for. What separates Nile croc hides from caiman hides is the fact that they tend to have much less calcium in their scales. This renders Nile skins softer and more flexible than caiman skins, making them easier to work with. For example, when used for belts and handbags, the superior flexibility of a Nile crocodile's skin allows it to bend more easily without developing crease marks. This makes Nile crocodile skin even more desirable as a material for high-fashion wear and accessories.
Beyond being useful for belt, handbags, and high fashion accessories, Nile crocodile skins are a great material for creating large-panel items such as large handbags because they are softer and available in larger sizes than caiman skin.
Another thing that separates Pan American Leather's new Nile croc skins from the new caiman hornback skins is that the Nile crocodile hides are belly cuts. Where the caiman hornback skins feature strong scale ridge patterns prominently in the center of the hide, Nile croc belly skin is more recessed and smoother in appearance. The effect for your final product is a sleeker, more streamlined look that is great for creating a subtler, more elegant look.
Check out the Pan American Leather Shop Now!
If you're interested in crafting a unique piece from some of the finest, most luxurious hides on the market, check out the Pan American leather shop to see what colors and cuts are available for your next project today.
For small orders, we can ship from our U.S.-based tannery in upstate New York or one of our USA-based showrooms to ensure fast delivery. For large custom orders, we can ship from our tannery in New York or Bogotá (for caiman belly or hornback) for better pricing.
Pan American Leathers is an independent retailer of custom-tanned exotic leathers for a variety of high-fashion industry clients. We've supplied top-quality skins to many of the top fashion houses in the industry, but have remained independent so that you can get the same quality and service that leading fashion designers count on for their products without the conflict of interest that is inherent to dealing with a fashion-house affiliate.
The team here at Pan American Leathers is here to help you get the best exotic leathers to match your needs. We look forward to seeing you at our showrooms in New York City, New York and Fort Worth, Texas soon.