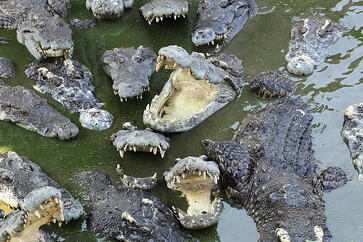 The Animal
The American crocodile (crocodylus acutus), native to Central America and Northern South America, is considered the largest reptile in the Americas. The average size is about 14 feet fully grown and about 180-450 kg (400-1,000 lb.). The largest of these crocodiles can reach lengths of 25 feet and weigh up to 2,000 pounds.
The Skin
The plates on the acutus skin have no bone. Their belly scales are small-to-medium sized and have small follicle markings that you can find on the belly scales of several other croc species. The acutus crocodile skin has a narrow flank section (in terms of both width and length) and a wide belly section compared to other related species.
It is worth noting that the acutus crocodile skin is not yet permitted in the USA.
Using American Croc Hide for Your Leather Project
The lack of bone and relatively wide belly section give the acutus crocodile skin a very clean look and wide usable area, ideal for handbags. Zero bone also make it especially soft and supple for ready-to-wear, like jackets, pants, skirts and other garments.
As the perfect in-between texture, well-treated crocodile leather can surpass your customers' expectations, and we'll proudly be the one to supply it to you. For more on how to implement top-tier American crocodile in your next leather project, set up a FREE project consultation with us!