The Animal
The Siamese Crocodile (Crocodylus Siamensis) is native to Southeast Asia — especially Brunei, Malaysia, Laos, Cambodia, Burma, Thailand, Vietnam, Indonesia and Borneo. The length of this crocodile can reach up to 13 feet, while the average Siamese croc is more likely to be around 7-8 feet. Upwards of 60,000 of this species is farmed annually for their skin.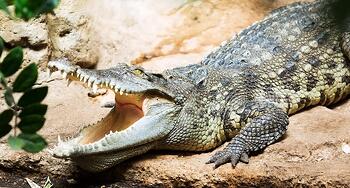 The Skin
The Siamese crocodile is a small, freshwater croc with relatively small scales and no bone content. However, trade of Siamese crocodile skin isn't permitted in the United States or in Europe.
Using Siamese Crocodile Skin on Your Next Project
Many compare this croc's supple feel and gorgeous tiling to the American alligator. It has a single follicle marking at the bottom of every individual belly scale like the Nile croc.
Since it is mostly used in Asia (beacuse it is not permitted in the USA or Europe), the skin of the Siamese crocodile is mostly used in handbags, accessories and footwear - product categories in which Asian factories have the most expertise.
For more information on how to implement Siamese crocodile skin on your next project, be sure to contact one of our experts to assist you!