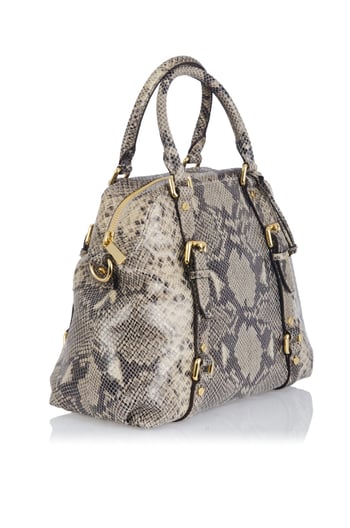 For years, a brand has commonly been made identifiable by a logo stitched into the material of products such as handbags, shoes, apparel or furniture. The fashion industry is continually updating, changing and setting trends, finding new ways to showcase a brand's unique qualities, values, tastes and trends.
Luxury brands can feel even more pressure to set high standards in the fashion industry, creating unique styles that place an emphasis on distinction and quality in accessorized products such as handbags. More than ever, brands are using exotic leathers as a symbol of luxury, distinction and high-end quality.
Designers Choice:
Diamond Python Skin
Luxury designers have many exotic leathers to choose from such as alligator, stingray, ostrich, or python leather when they are creating a handbag. Each luxurious exotic leather offers different qualities and pricing to accommodate the design's needs.
However, designers are using a more unique, and certainly one of the most popular and largest python skins, from Southeast Asia called python reticulatus, more commonly known as diamond python. Being one of the largest pythons, diamond python hides provide approximately two times the amount of material to work with as a short tail python hide does.
Diamond python hide has a medium body - not as heavy as the short tail and not as thin as the Burmese python skin - which makes it a perfect blend of malleable and durable ideal for handbags. Diamond python leather is easy for sewing machines to thread through, and it doesn't need to be thinned out with a dremel or similar tools which are usually required for more scaly type reptile hides.
Since diamond python hides are large in nature, depending on the size of the handbag, there will most often be varying lengths of left over hide pieces that a designer can use to accessorize the handbag with, such as a braided cord to fasten as the strap or zipper decor.
Aesthetic Distinctions
Diamond python's appearance is distinct in nature because of its web-like series of rounded color patterns in its scales which create a natural geometric design. Also, this hide has wide center belly scales which are quite pronounced.
Bleached or Unbleached
Diamond python skins are available in both front and back cuts for both bleached and unbleached varieties. Bleaching the python's hide removes the iconic scale colors to get one uniform color.
An unbleached hide preserves the python skin's unique scale patterns reinforcing it as genuine python leather with visual distinctions. To get a visual for what bleached and unbleached python skin looks like, you can visit Pan American Leather's website in the python shopping section.
Python skin handbag fashion is growing. With such natural versatility and unique distinctions, this luxurious exotic hide is becoming a desirable handbag leather for designers.