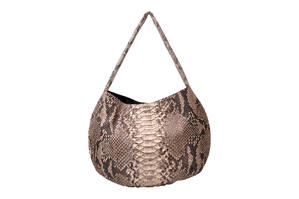 Not long ago, we made a list of the reasons why python skin is a great material for handbags. Python hides, which are collected from both farmed animals in Southeast Asia, can be up to 60+ centimeters wide and 6.5 meters long, has beautiful natural markings when unbleached, and becomes highly flexible when tanned.
Today, we wanted to share a few basic tips for getting the most out of your python skins when using them to make handbags:
Tip #1: Selecting a Skin
Before you can start crafting that perfect python skin handbag, you first have to choose which python skins to use. When selecting python skin, consider the following:
Grade. Handbags normally have very large, open panels. Because of this you typically need large, grade I skins. In a large handbag panel, there is little to no room to hide or work around flaws in a hide.

Size of the Handbag. Are you creating a small clutch bag, or a big bag? The bigger your project is, the larger the skin you'll need. If you want to minimize your expenses, you'll want to make sure that the skins that you order are only as large as you need to fit your panels. However, some handbags are so large that they need to be seamed regardless. If you are flexible, try working from what you can find in stock at tanneries and resellers.

Colors. Do you have a specific color in mind for your handbags, perhaps to match other items in your collection? When shopping for hides, it's important to make sure that you get the colors you want so that your final product can match your creative vision. Here, buying your skins directly from a tannery can be helpful, as they can dye the hides any color you want during the tanning process.

Skin Patterns. One of the most distinctive features of a python's skin is the patterns of colored scales on it. When ordering python hides, you often have the option of ordering either naturally-patterned skin, or ordering skins that were bleached to remove these patterns. Using natural patterns helps to quickly establish the finished piece as a genuine python skin product, while bleached skins often have a cleaner, more uniform appearance.
Keeping the above in mind while selecting python hides for your handbag project can help you ensure that the skin you get is suitable for your needs.
Tip #2: Using Scrap Material
With the largest python skins, it is often possible to get multiple panels for a handbag from a single hide. However, material near the tip of the tail tends to be much more narrow than material from the midsection. This makes materials near the tip less useful for large sections of the handbag. Instead, use these portions of the skin for straps, trim, zipper pulls and other smaller details.
By using material that would otherwise be scrapped, you can get more from your exotic leather purchase, and add a more personal touch to your designs.
Tip #3: Creating Shoulder Straps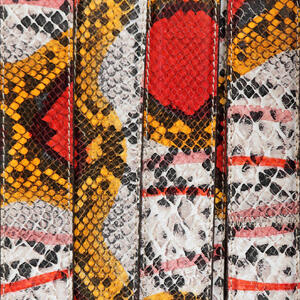 When creating handbags that use carry straps, consider buying a few extra small, low grade to use specifically for making carry straps. These skins do not necessarily have to be grade I skins, as you will have a little room to work around flaws in the hide here.
The other way to create shoulder straps would be to use sections of skin from in-between the areas cut out for the larger panels of the handbag. Unfortunately, this limits the length you can get without seaming.
Tip #4: Where to Buy Your Skin
With the above tips in mind, where should you go to buy your python skin for your next handbag project?
For exotic skins, there are two types of businesses that can furnish you with tanned hides:
Tanneries. These are the businesses that actually process raw hides and turn them into leather. These businesses can process skins "to order," putting them through tanning processes that best suit your needs. Every order from a tannery will include a surcharge to cover setup costs, whether you order one skin or a hundred skins. Tanneries are the best option for large custom skin orders where time is not an issue.

Distributors. Unlike tanneries, distributors don't process the skins themselves. Instead, they order skins from tanneries in bulk, storing them for a quick sale to their own customers (such as you). Most distributors keep a large stock of popular exotic skins in a few different colors. The big advantage here is that the skins you order from a distributor are already finished, so they can ship you your order as soon as it's complete. However, distributors do charge a markup over what the tanneries charge them for the skins they sell. Distributors are generally best for small orders of commonly-available skin colors and finishes, especially when time is a factor (such as when you're in a rush to get a prototype finished for a fashion show or other event).
In addition to the two businesses above, you can also place an order with a manufacturer, who will order their skins from either a tannery or a distributor, and then handle the process of turning your skins into a finished product. This is a good choice for designers who don't have an in-house production team to work with, or who simply want to focus on the design aspect of creating products without having to worry about managing a team of workers.
We hope that you find these tips useful. If you want to learn more about working with exotic leather for a variety of projects, contact Pan American Leathers today, or request a consultation at the link below: