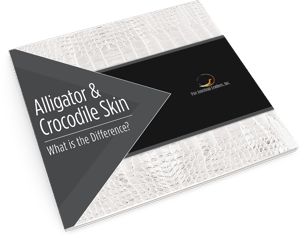 Picking the perfect exotic leather for your next project can be tough. There are a lot of really great exotic materials to choose from, each with its own unique properties and challenges.
Even exotic leathers that seem similar, such as the leathers that come from different crocodilian species, can have differences between them that make one type more suitable for your needs than another.
This is why we've assembled a convenient mini comparison guide for the different types of crocodilian leathers available on the market.
Which Crocodile Skins Are Covered in the Guide?
In this guide, you'll find data on six different crocodilian species, including:
American Alligator skin
American Crocodile skin
Caiman Crocodile skin
Nile Crocodile skin
Saltwater Crocodile skin
Siamese Crocodile skin
What Does the Guide Cover?
The guide covers basic information such as the average size of a skin from each type of crocodile, notes on the appearance and workability of each hide, and notes on where each type of hide typically comes from.
This guide also notes some of the current trade restrictions on certain skins and provides tips on working with stiffer crocodile hides.
Read the full guide today to learn more about using alligator skin and crocodile skin and to help you pick out the perfect exotic material for your next project!