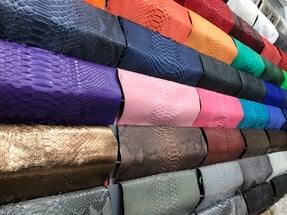 Modern-day sustainability practices were born out of international organizations dating back to the mid-20th century. The sustainable trade of alligator skin, caiman skin, crocodile skin, python skin, lizard skin and other exotic skins has been the result of an incredible and nearly unprecedented international collaboration between public and private enterprises across research, implementation and enforcement functions. We will study the most important ones for the exotic skin trade in the next few blog posts. The focus of this post however, is the the godfather of all of these organizations: the International Union of Conservation of Nature (IUCN).
International Union for Conservation of Nature (IUCN)
The IUCN is the original sustainable trade organization. It was founded in France in 1948 and is now based in Switzerland. It is focused on research, advocacy and education on the sustainable use of natural resources with over 1,300 members (both government and private organizations), 15,000 contributing experts and activities in over 160 countries. The main themes of IUCN work tackle conservation, environmental and ecological issues, spread across six commissions:
Commission on Education and Communication (CEC) distributes, educates and trains the conservation community on IUCN findings;
Commission of Ecosystem Management (CEM) provides guidance and support to maintain healthy ecosystems and biodiversity;
Commission on Environmental, Economic and Social Policy (CEESP) generates and disseminates knowledge on how to balance the conservation of nature with humans' social, cultural, environmental and economic needs;
Species Survival Commission (SSC) provides information to the IUCN on how species and their ecosystems depend on each other and how they support human livelihoods;
World Commission on Environmental Law (WCEL) provides legal support for environmental conservation and sustainable development globally;
World Commission on Protected Areas (WCPA) develops policy advice on topics of protected areas.
Crocodile Specialist Group
The Crocodile Specialist Group (CSG) is one of more than 120 species specialist groups within IUCN's Species Survival Commission. It was formed in 1971 and has since become one of the most influential organizations in the trade of alligator skin, crocodile skin and other exotic leathers with around 600 members. Its main mission is to help the IUCN and SSC to meet their missions with regards to the conservation, management and sustainable use of crocodile species. Its stated goals as they pertain to crocodile species are specifically:
To provide expert opinion and advice on conservation, management and sustainable use of crocodiles for the various industry participants;
To encourage and assist in capacity-building in order to achieve the mission;
To balance human uses and benefits with those of the animals and their habitats, as per widely adopted standards;
To identify problems in crocodilian conservation, design, implement and test solutions and adapt those solutions over time;
CSG pioneered the concept of conservation through sustainable use, responsible for the exploding populations of several exotic species worldwide (many from near extinction in the 1970s). CSG experts perform research, draw conclusions and advise and train governments, wildlife management agencies and other industry participants on the conservation needs of crocodilian populations.
The CSG works closely with CITES, another international organization born from the IUCN, to promote sustainable legal trade of these species. We will learn more about CITES in the next blog post.