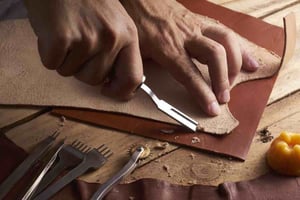 The Brooklyn Shoe Space is a membership-based shared work space for shoemakers and leather workers alike to gather, share tips and get down to work on their latest leather and shoe projects. For people who want some studio time, the Brooklyn Shoe Space lets members schedule hourly sessions during the week. On weekends, the space is open to both members and the public from 11:00 am to 7:00 pm. While at the Brooklyn Shoe Space, aspiring leather and shoemakers have access to the studio floor, tools and expert supervision from an experienced shoemaker.
They also offer a range of classes to accommodate shoemakers and leather workers of all skill levels.
What Are the Classes Like?
The classes offered by the Brooklyn Shoe Space vary in length, cost and complexity. For example, a basic "Introduction to Shoemaking" might last for a couple of hours and cost around $75, while an intensive shoemaking workshop might take almost an entire week and cost around $1,950.
This is because the different classes will involve different amounts of personal instruction time and resources to complete. The introduction to shoemaking class is mostly designed as a way to introduce the basic concepts of making shoes to newbies and doesn't involve much in the way of materials or instructor time, so the tuition for the class is on the smaller side. The more intensive workshops may have learners use up a lot of expensive leather materials and complete intensive, prolonged one-on-one sessions with expert tutors to learn very specific skills, so the tuition for these classes will generally be higher.
Classes are available both during the weekdays and the weekends (for students who have day jobs they cannot get time off from). Most materials are included for the majority of classes, although you may be asked to go on a shopping trip as a part of some courses, with students being responsible for the materials they buy. The goal of the shopping trip is to get students used to sourcing their own leather, so they'll know how much they can expect various leathers to cost and how long it can take to get an order of leather.
Where is the School?
The school is located in the Brooklyn Shoe Space itself, which is at 224 Roebling Street, Brooklyn, NY 11211. Remember, the space is open to the public on the weekends from 11am – 7pm, and to members or registered students on the weekdays.
Why Attend Brooklyn Shoe Space's School?
If you live in New York, the Brooklyn Shoe Space school is conveniently located. Additionally, the space has numerous shoemaking and leather working tools onsite, tools which may be hard or expensive to acquire otherwise. The range of beginner courses helps you get a handle on the basics of working with leather, and classes are very frequent. Plus, you can register as a group with your friends or employees so everyone can learn the same skills together.
Another benefit is that the school provides personal tutelage and even offers private classes for those who want them. Here, you get highly personalized instruction and help mastering various leatherworking skills from experienced individuals who live and breathe the art of making shoes on a daily basis.
Want to learn more about working with exotic leather? Contact the experts at Pan American Leathers to learn more about the unique challenges of working with different exotic hides, or to place an order for a one-of-a-kind custom skin that's perfect for your next project.