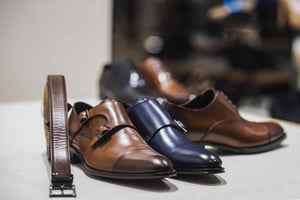 Finding a school to help you learn how to work with leather can be tough. This is why the team here at PanAm Leathers is putting together a list of schools that offer an education in crafting leather goods. For the next stop in PanAm Leathers' tour of leather craft education, we'd like to introduce you to the Chicago School of Shoemaking & Leather Arts.
Where is the School?
The Chicago School of Shoemaking & Leather Arts can be found at 3717 N Ravenswood Ave, Suite #113, Chicago, Illinois 60613.
What Are the Classes Like?
The Chicago School focuses on small class sizes that allow teachers to act as personal tutors/mentors to students in each course. As they say on their website: "Classes are no more than 4 students at a time and are 2 days long."
Classes are divided between general leatherworking classes, specialized shoemaking courses, and vocational training to prepare learners for a professional career working with leather. The general leatherworking courses include three different "general" courses that teach the basics, some specialized projects/techniques, and then industrial sewing machine skills in order. There are also classes for making handbags, small leather goods, and leather carving & tooling skills, among others.
The footwear classes include a beginner's course for shoemaking, making patterns in shoes, sandal making, boot design/construction, sneaker classes, and even private lessons with the school's founder/CEO, Sara McIntosh.
Tools are provided onsite for the full two days of instruction, so there's no need to buy your own separate tools. Courses like the beginner shoemaking course include the cost of materials (such as upper leather, midsole leather, laces, glue, etc.) in the cost of the course—and you get to go home with your own custom-crafted pair of shoes.
The school keeps an album featuring images of student projects on their Facebook page.
Because the class sizes are so small, courses tend to sell out really fast. For example, at the time of this writing (in June), the beginning shoemaking class is sold out through August. So, if you're in the Chicago area and want to get into one of these classes, you should probably sign up as soon as possible.
How Much Does Each Class Cost?
The cost of a class will vary from one class to the next. This is partly because the cost of tools and materials are included in the tuition fee. For example, the Leather Work 101 class has a cost of $89 because it uses a minimal amount of materials and is an easy-to-learn class. The Beginning Shoemaking class, on the other hand, costs $950 because it uses significantly more materials and requires more in-depth instruction.
Whether you're an amateur who just wants to learn how to make a couple of leather pieces for fun or a dedicated professional who needs to master new techniques for your business, if you're in the Chicago area, this is one leather craft school that you should check out!
If you have any questions about working with exotic leather specifically, please contact Pan American Leathers, or check out some of our informative exotic leather guides!