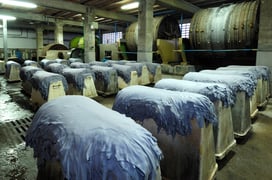 In our last Custom Tanning post, we addressed the specifics of how to pack and ship your raw skin to the tannery. Once the hide reaches its destination, the tannery will transform it from raw material into a finished leather that is able to be made into all kinds of leather goods. As a custom tanning customer, you can specify the color and finish of your alligator skin(s).
How Tanning is Done
For the most part, the tannery is in charge of converting the skin into leather, softening it, adding color to and then sealing it with a finish that protects and further beautifies the skin. The first step at the tannery is the tanning process. This is the conversion of the article from a raw animal skin into leather, at which stage the skin is no longer susceptible to decomposiiton. This is done with a series of drum loads of chromium salts, vegetable extracts and bleach. With the continuous addition of heat, a mixture of oils is absorbed into the hides to soften it.
Coloring (Dyeing)
Once the alligator skin is tanned, it is called "crust." "Crust" simply refers to leather that has been bleached white in preparation in order to create a blank canvas for coloring. In custom tanning, the color is specified by the customer, having selected from one of our standard colors or a color of their own they want us to match. For dye-to-match, we required a pantone reference or a hard swatch to eliminate any misinterpretation. We have found that photographs leave way too much room for error.
At this point, we mix dyes that will achieve the desired colors and bath the skins in a drum with those dyes, for several hours, until all of the dye has been absorbed by the hide.
Finishing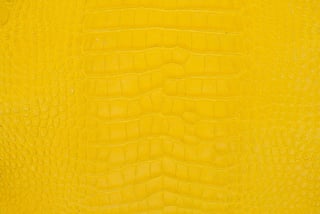 Once the color is achieved, finishing provides the desired level of sheen and feel, and seals the alligator skin to protect it against the affects of sunlight, water, rubbing and other external factors which may alter it.
Alligator finishing is usually achieved by some combination of heat and pressure, applied by glazing jacks or heat presses. In other cases, it can include spray booth applications, which are typically reserved for projects that require very high physicals, or transfer papers for metallic foils and other prints.
In sum, finishing ensures that the final leather product is smooth, malleable and soft while offering consumers a surface that is both protective and easy to clean. And of course, it provides the look the customer is looking for.
For more information on our tanning process or details on how to ensure the ideal leather project, please feel free to contact us here!