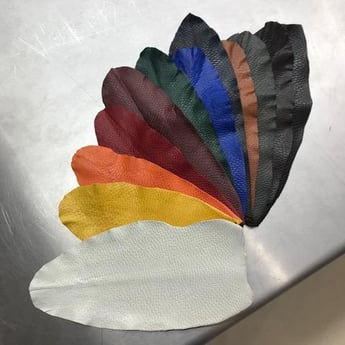 Pan American Leathers remains dedicated to providing a wide variety of exotic skins to suit the needs of high-fashion designers of every stripe. This is why the Pan Am team is proud to announce that we're adding a new kind of exotic leather to our lineup: beaver tail skins!Here are a few facts about beaver tail skin that might interest you:
A Little Bit About Beavers
The beaver tails used by Pan American Leathers come from a species of beaver known by the scientific name Castor Canadensis, which are native to North America. There is also a variety of beaver native to the Eurasian continent known as Castor fiber.
Beavers are considered a nuisance species in many parts of the United States because of their tendency to build dams. These dams can cause many negative environmental and economic impacts related to the damage they cause to downstream farmers. Additionally, beavers can introduce harmful germs/bacteria into fresh water and cause damage to tree farms when they use the trees to grind their teeth down.
Reducing the beaver population improves water flow and quality, increases crop yields, reduces the tax burden on citizens, and generates economic value for poor, rural communities. However, beavers are harvested only once a year, so as to manage the issues above while conserving the species.
All of Pan American Leather's beaver tail skins come from beavers that are hunted, tanned, colored, and finished in the U.S. Beaver tails are rich in historical value and are a key part of Americana culture. Historically, beavers were one of the first hides that sparked the fur trade between the Native Americans and European sailors in the 1500's.
About Beaver Tail Skins
Beaver tails have a distinctive texture and appearance that can make them immediately identifiable. They're also incredibly durable, being naturally scratch and water-resistant. The water resistance is largely owed to the fact that beavers are semi-aquatic animals that evolved to spend a great deal of time in the water.
Historically, beaver tails have been used in watch bands, footwear and small accessories, but have not been available in large quantities for many years.
Now, we are bringing them back.
Learn more about beaver tail skins and how they can be used by contacting us today, or, place an order on our shop!