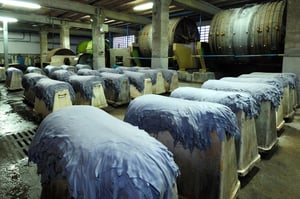 Here at Pan American Leathers, we do our best to make sure that we have a broad selection of exotic leathers for all of our most discerning clients. Unfortunately, it's impossible to keep every kind of leather in stock all the time, considering how many options. This is an issue for many distributors.
However, Pan American Leathers isn't just an exotic leather distributor—we're also a tannery with facilities located in upstate New York and Bogota, Colombia. When a client needs a skin in a particular specie, color and finish that isn't available in our stock program, chances are that we can make the skin to fit your order through our custom-color service.
The Basics of Ordering a Custom Skin
Placing a custom skin order with Pan American Leathers is as easy as 1-2-3!
First, determine what skin you want—the type of skin (alligator, caiman, python, etc.), what color you need, the finish you want (shiny, matte, metallic, etc.), the thickness of the skin, the top feel (silky, waxy, oily, etc.) and whatever else you want to specify. If you need help making some of these decisions, tell us what your project is, and we can provide some guidance on what finishes and thicknesses work best.
Next, we determine the price for your order based on the above-mentioned factors, skin size, grade and quantity per color. Once you pay the 50% deposit, we get to work.
We will dye all skins together and finish a part of one skin ahead for your approval. If you ask us to make small adjustments, it typically takes us an additional week will have to get you a new prototype to approve. Once approved, we'll finish the balance of the skins—typically within one or two weeks.
Once we have completed the order, we will send you a final invoice to settle up on the balance, and the order ships once the balance is paid.
Why Work with Pan American Leathers?
We're an INDEPENDENT tannery—We aren't owned by any of the major fashion houses, so we can provide unbiased service, making for fair prices and reasonable delivery times.
We're U.S.-based—Most of our custom coloring is done in New York, so our American clients don't have to worry about import/export red tape and delays, or the costs associated with international transport.
No middlemen—When you place an order with Pan Am, we ARE the tannery! This means no middlemen or third-party communications to get the details wrong.
Get the perfect exotic skin for your needs by contacting Pan American Leathers today! Or, browse our online shop to see if we already have the perfect skin for your needs in stock.