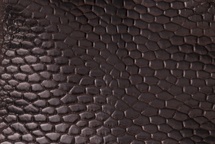 In a few recent posts, we've talked about beaver tail — from what they are and how they're processed to a few reasons why you should use them in your next exotic leather project. However, there is one more question that needs to be answered: what kind of exotic leather projects are the best for beaver tail skins based on their size, shape, durability and appearance?
Some of the top uses for beaver tail include:
Watch Bands
The small, tight grain pattern of a tanned beaver tail makes for a beautiful appearance on small items such as watch bands. Where many other skins have patterns that are too large to really notice on something as small as a watch band, the grooves in the surface of beaver tails are intricate enough to be noticed even on men's and women's watch bands.
When ordering beaver tail for use in making watch bands, it's generally a good idea to order smaller skins whenever possible. Watch bands don't require a lot of material, so you can still get about 3-4 bands from a small tail with ease.
Phone Cases
Many smartphone users love to splurge on attractive cases for their mobile devices. The thickness, scratch-resistance, and waterproof qualities of beaver skin makes beaver tails an ideal material for making protective (and attractive) phone cases.
The size of the skins you order may vary based on the type of phone you're making the case for. Smaller smartphones—where you're only making an inlaid case—may only need smaller skins. However, larger phones may require bigger tails. You also may need a mid- to large-sized skin if you're making a wrap case that will go around the edges of the phone.
The only drawback to using beaver tail skin for phone cases is that the hides are fairly thick, which can make it difficult to work with when wrapping edges. In these cases, it may be necessary to split down the hide to make it easier to manipulate.
Footwear
The scratch and water resistance properties of beaver tails make for excellent footwear, such as cowboy boots. Additionally, the small, intricate groove pattern can make for a striking and unique piece of footwear that is very distinct from both cow- and snake-based leathers.
When ordering beaver tail for footwear, it's better to go with larger tails. Even then, if you aren't making whole shoes/boots from beaver tails, it is likely that you'll need to use two or more tails to fill some of your panels.
Alternatively, you can use beaver tails just to make the counters or trim on a shoe to create a textured look that contrasts with the rest of the shoe's appearance.
Wallets
Beaver tails are often used for making high-quality men's wallets because they're attractive enough to draw attention, but tough enough to stand up to everyday use.
The big challenge in making men's wallets with beaver tails, however, is finding the right size for your needs. To create one "full" large men's wallet from a single hide, you'll need to order a large or XL-sized tail. Alternatively, you could use two small or medium sized skins and join them down the center of a bi-fold wallet.
These are just a few of the potential uses for beaver tail skins. Need a scratch and water-resistant hide for your next exotic leather project? Contact the experts at Pan American Leathers! We look forward to helping you find the right exotic leather to meet your project's needs.