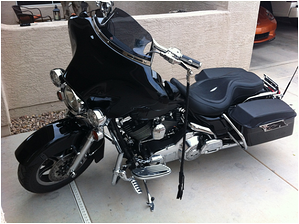 There is little that compares to the thrill of revving up your motorcycle and cruising the open road. A bad seat, though, can easily ruin your ride. What if you could get comfort, style, and edge to go with your motorcycle? Using exotic leather for motorcycle seats offers a few key benefits, including:
Comfort. The right exotic skins can give you maximum comfort. Making a motorcycle seat out of exotic leather guarantees that anytime you hop on it, you can focus on the open road instead of saddle sores.
Durability. You obviously don't plan on replacing your motorcycle seat on a regular basis. Exotic leather has the distinct characteristic of being durable and holding off weather elements. Well made, exotic skin motorcycle seats make a statement for a long time.
Aesthetics. Sure, you can get a plain leather seat for your motorcycle. However, an exotic leather motorcycle seat becomes an extension of your motorcycle and your personality. Because exotic leather naturally comes in a range of colors, it is easy to get the color that goes with the bike's finish. Additionally, exotic skins have visually appealing shapes and patterns that fit in with your desired look.
Choosing the Best Skin
Alligator Skin
Alligator skin is one of the most popular choices for exotic leather enthusiasts. This preference stems from the fact that it is less bony than other crocodilian skins and, as such, is plusher. American alligators can grow up to 15 feet. With such a large surface area, you may only need one skin to complete a motorcycle seat.
Alligator skins have large symmetrical patterns that give your motorcycle seat an appealing look. While farm-bred alligators may be ideal for your desired seat, wild alligator skin is more rugged. The final finish from wild alligator skin will make for captivating tales during rides and stops.
Arapaima Skin
What is arapaima you ask? The arapaima, also known as paiche, is one of the world's largest freshwater fish. It is found in the Amazon, making it one of the most exotic skins on this list. Arapaima skin could be your best bet for a long-lasting motorcycle seat. Its skin is scratch-proof, owing to being neighbors with the not-so-friendly piranha.
Despite the arapaima skin being incredibly tough, it is also supple. The arapaima skin can measure up to 8 square feet, making one skin enough for some motorcycle seats. Another feature that makes arapaima skin a great bargain is the skin pattern. It has large, diamond-shaped uni-directional scales that could blend well with similar bodywork on your motorcycle.
Fishing for Arapaima means you're always going to be sitting on a great story every time you hit the open road.
Ostrich Skin
Ostrich skin yields exceptional leather based on three factors: you can get large panels, their skin is tough yet supple for easy handling, and the quills make for an interesting feel when you sit. Typically, skin from the body should be enough for one seat. You can opt to use full-quill, partial quill or plain skin. Ostrich skin's natural coloring blends well with most bike décor.
Caiman Hornback Skin
Caiman is smaller than other crocodilian reptiles. Caiman hornback is the right fit for the rugged man who wears his masculinity on his sleeve. However, for the macho rider, he will have to make do with multiple panels or just partial cushioning since caiman hornback skin is a bit small for a full seat.
Design-wise, caiman hornback skin has unique patterns, with an oval shaped row of square scales in the middle of smaller scale patterns. This unique arrangement is great for large seats, as it can cover half of the seat and still leave room for another panel.
On the upside, though, caiman hornback leather makes a great seat for long distance riders. The bones of the skin provide excellent traction, giving the rider both comfort and stability.
Stingray Skin
Stingray is one of the best exotic leathers to use for a motorcycle seat. Naturally, stingray skin has fire and water-resistant qualities, making it great for the outdoors. Furthermore, the pebbled grain provides traction, so you don't end up sliding down on the seat.
One of the minor drawbacks of stingray skin, however, is that the biggest available skin will only yield a panel of approximately 12" x 12", hardly sufficient to make one seat. You will need additional panels if you need the whole seat covered.
With these exotic leathers, you can upgrade your motorcycle experience to a whole new level. Find the exotic leather that fits your style here.