Alligator skin has several uses in high-end, physically large articles of clothing or accessories. One of the trickiest parts for many exotic skin manufacturers is when it comes to constructing wallets and small leather goods.
Having a smaller space to work with means there is less room for error and attention to detail is highly valuable. As it can be a tricky process, we've decided to outline the best techniques to ensure a quality alligator skin product for your customers when you're using alligator or crocodile skin.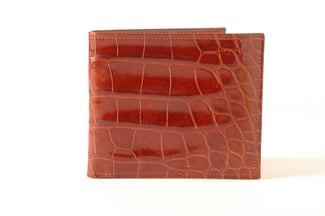 Skins to Use
The first step when making a small leather good is choosing the right type of leather for your project. For this, you have to take into considering the price, quality of the skin, its grade, the size of the scales and the particular look you're going for.
There are two common approaches to deciding which type of skin to utilize in your creation. One, is to use grade 3 or 4 skins that are 45 centimeters and up. Financially, this size and grade(s) generate a better cost per wallet. However, on the opposite end, you may have to spend extra time trying to cut around the defects and imperfections that come with this selection.
Another approach one could use is using a grade 2 or 3 skin between 28 and 36 centimeters. With this particular size, the scales are smaller. Generally, smaller scales have the reputation of being cleaner and more luxurious — which is perhaps why they cost a little more, too.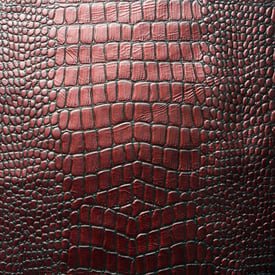 Cutting the Skin
Different sizes of wallets call for different cutting techniques. For instance, if you're working on a large wallet, it's advised that you cut horizontally across the alligator or crocodile's belly. If the skin is large enough, you can even use skin from the head as well. Folding wallets can't be cut from the tail since the scales in this area don't fold well.
This doesn't mean, however, that the tail of crocodile or alligator skin can't be used for other items. Typically, other unused portions of the skin can be used for products like card cases, money clips or other small leather goods.

Avoid mixing and matching different parts of the animal's hide on your leather. Panels that are cut from the tail end would never be paired on the same piece next to a panel from another part of the skin. As the scaling patterns are different, the leather good would not look homogenous and can lead to inconsistent texture, appearance and durability.
For more information on how to get the most value and style out of your alligator or crocodile skin, contact one of our specialists today and schedule a consultation!