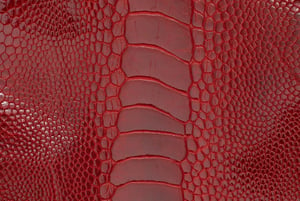 Over the years, as fashion tastes have evolved, the demand for exotic leather has risen steadily. Ostrich leg leather has become one of the favorite leathers for sneakerheads and tanners alike.
Why has ostrich leg leather become so popular? Here are five reasons why this exotic leather is ranked amongst the best kinds of leather for sneakerheads to use:
1: Durability
Before making any sneaker purchase, buyers typically think about durability. After all, sneakerheads want shoes they can enjoy for years to come. For that reason, ostrich leg skin is perfect for making a pair of sneakers.
The skin is tough, due to the ostrich's flightless nature. Even after processing, the ostrich leg skin maintains a warm sheen that lends to the beauty of the pair of sneakers. When paired with an equally durable sole, ostrich leg skin sneakers are a more than a fair bargain.
2: Color Options
With sneakers, simplicity is beautiful. Luckily, you can find ostrich leg leather in many stock colors, such as black, red, blue, brown, and ivory. By themselves, these colors make eye-catching sneakers. For a master shoemaker, mixing these colors to produce a multi-colored sneaker should be just a day at the office. Additionally, you can get various finishes on the leather, such as glazed, matte, sueded and marble. The finish gives the sneaker and extra air of style and sophistication.
3: Unique Patterns
If you placed ostrich leg leather pieces on a surface, you are likely to see a common factor. Ostrich leg leather has a distinct marking in the middle of the skin. The large semi-rectangular scales form a nice pattern that can be used as a midpoint for every panel placement.
This quality is advantageous to the shoemaker as they can match numerous panels to make a unique shoe. Furthermore, each panel has a similar pattern, so it is easy to maintain consistency. This is great if you need to use multiple skins for a single shoe.
4: Great Price
Exotic does not have to mean out of reach. Ostrich leg skin is a balance of impeccable quality and affordability. Ostrich leg leather is perfect for the sneaker enthusiast who would like a modest luxury.
It is crucial to note that to make a complete pair of sneakers from ostrich leg leather, you would need a lot of panels, about 8 ostrich leg skins. While this may be a disadvantage as indicated by the sale price, you can also use the opportunity to artistically use other skins to complement the ostrich leg.
For instance, you can opt for larger chunks of ostrich skin from the body. Alternatively, you can use alligator or python skin on other parts of the sneaker.
5: Easy to Work With
Leather has to be flexible so you can manipulate it to take proper sneaker shape. Flexibility makes ostrich leg leather a desirable raw material as it makes cutting and sewing easy. With enough material, an experienced shoemaker can carve out a pair of high-end leather sneakers without having to strain during production.
Sneaker Care
Spending good money on an equally tasteful pair of sneakers is an investment in your image. The hardest bit about owning such a pair of shoes is maintaining its pristine aesthetics. Ostrich leg leather, like other leathers, needs to be cleaned and stored properly.
The glossy sheen of well-cleaned ostrich leather sneakers could mean the difference between making a classy statement and making a mess out of your entire outfit. Detergents are known to damage leather, so it is wise to stay away from them. Instead, you can use conditioners or just a damp cloth to wipe off any dirt.
Direct sun will also fade the original dye off the leather, giving your shoe an unattractive dull look. To that end, storing the shoe in a dark place, preferably boxed, is the ideal solution to make sure your shoe is always in top shape.
Everyone wants that extra edge when assembling their outfit. A sophisticated pair of sneakers from exotic skin can either complete or transform your look. If you are looking to splurge on a budget, ostrich leg leather is a standout alternative. Experiment with a spectrum of amazing colors and classy finishing to get the most out of your footwear.