People have incredible creative skills. Over the course of history, we've made a large amount of things from some of the strangest materials ever.
Sewing used to be done with needles made of bone, and necklaces and other jewelry have beads made from various woods, stones, and crystals. Needless to say, when it comes to designing fashion accessories, the sky's the limit with the amount of materials we have available to us today.
One of the most unique and durable materials for creating incredible fashion accessories is python skin.
Why Python Skins is Great for Accessories
Accessories made from python hides add a nice edginess to fashion. Some of the most commonly made fashion accessories include:
And this is just the beginning. There are several ways that people use various types of snake hides, most notably python skin, to create fashionable items. There are several advantages of using python skin for making garments.
Some of the most important benefits of using python leathers include the following:
Python Skin Is Strong and Durable
One of the reasons why python hide is such a great material for making fashion accessories is that it is very strong and durable. It can withstand a lot of wear and tear, which is perfect for those who want to use their accessories on a daily basis.
Python Skin Is Easy to Clean and Water Resistant
Exotic leathers made with python skins are water resistant, so it won't get ruined if it gets wet. This also makes your items easy to clean.
You do not want to use soap products and too much water though, as this can dry out the python leather and make it crack over time. Instead, simply use a soft, damp cotton cloth to wipe away any dust or dirt.
Python Skin Offers a Unique Style
Another great thing about python hide is that it has a very unique and stylish appearance. It is often used to create items that are both fashionable and functional. For example, there are several exotic leather projects, like wallets and jackets, where python skin is an ideal choice to help you stand out from the crowd.
There are a few different types of python skin that can support your vision for upcoming projects.
3 Types of Python Skin That Are Used for Exotic Leather
There are three different species of pythons that are used in the exotic leather industry for many different use cases. These species include:
Short Tail Python Skin
This species is found in marsh-like swamp environments, most commonly found in western Malaysia, Sumatra, and several islands in the Strait of Malacca.
The short tail python skin hides often provide a high yield, thanks to their full bodied build. The center belly includes scales that are wide, which are showcased well in a back cut bleached style hide.
Burmese Python Skin
As one of the largest snakes in the world, Burmese pythons also tend to deliver a high yield of hides. Options for Burmese python skins come in both front and back cuts.
Given the thinness of this kind of hide, they're an ideal choice for garments that would require a thicker hide to be shaved down.
Diamond Python Skin
This particular species of python provides a hide that tapers more than the others. The hide includes wide center scales just like the short tail python, which is why it stands out when used in exotic leather projects.
Tips for Buying Python Skin
Buying python skin is an exciting process, but it can be overwhelming. Follow these tips to simplify your buying process so you can find the right python skin for your goods:
1. Know which cut of skin you want. Your options include:
The front cut — this is cut down the belly, so it often provides a more uniform size.

The back cut — this cut includes the belly side of the python hide, which means it has wide scales running down the center.
2. Consider how you want to incorporate the natural markings of the python skin.
Bleached python skin covers the markings, so you get one uniform color.

Unbleached python skin

leaves the natural markings intact, so you get to see the diamond pattern.
3. Explore your color options to find the best fit for your exotic leather goods you're making. Some of our most popular python skin colors include:
4. Learn about the pricing structure of python skin and other snake hides. Some factors that impact cost include:
The size of the hides, which are priced per meter in length
The size of your total order
The specifics of the python skin you want (e.g., glazed python skin, metallic finishes).
5. Determine the best places to buy python skins, which can include:
Distributors — they purchase skins from tanneries and resell them to manufacturers, brands, designers, and direct to consumers.
Tanneries — they produce python hide products, and Pan American Leathers is proud to be one of the few independent python skin tanneries.
Manufacturers — they help with producing and sourcing python leather products.


5 Awesome Python Skin Ideas for Unique Accessories
Now that you know how to navigate the process of purchasing python skin and other exotic leathers, it's time to get inspired for your next project! There are so many people using python skin to make incredible, unique products and fashion accessories.
Check out these five awesome python skin accessories to spark your inspiration:
1. The MJ Python Skin Laptop Cover & Bag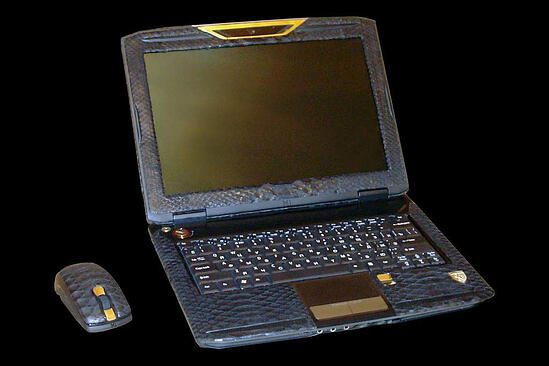 One of the fun things we've found people doing with all sorts of exotic leathers includes laptop accessories. Not laptop bags, as you might imagine. These are full laptop enclosures that are covered in python skins (as well as crocodile skin, alligator skin, and anaconda skin).
The patterns are amazing and show off the beauty of python skin at your job. We like this usage because it shows that while it is a fashion statement, it's also a practical use of the leather (as it's far more durable than plastic).
2. The MJ Python Skin Mouse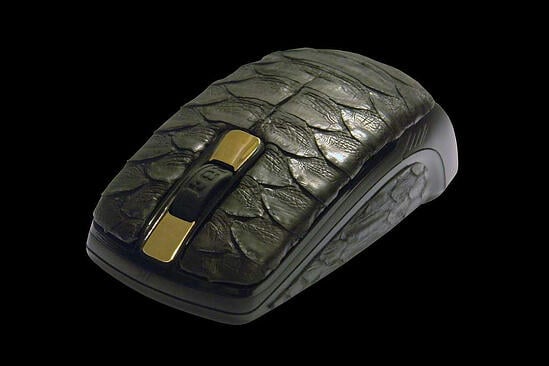 Along with the computer skins and bag, MJ also made mouse coverings with the python skin that match some of the laptops that they've made. We think that this, too, is a nifty use because it again shows the durability.
A lot of people use their laptops at work and don't handle them too often, but the mouse is something you use every minute of the workday. It's a great use of python leather!
3. Python Skin HOON Headphones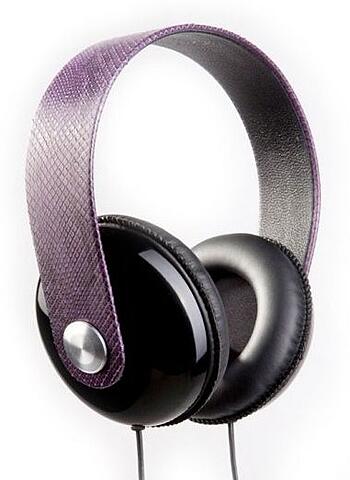 Source: engadget.com
Sticking with the technology theme, we've also found a company that manufactures python skin headphones. We thought this was neat because in this age, headphones can help define an audio product and is easily the most visible part of an audio device.
We might not know what kind of audio player you're using, but we can see your headphones. They're practical, durable, and they're great looking!
4. JungleTribe Python Skin Brassieres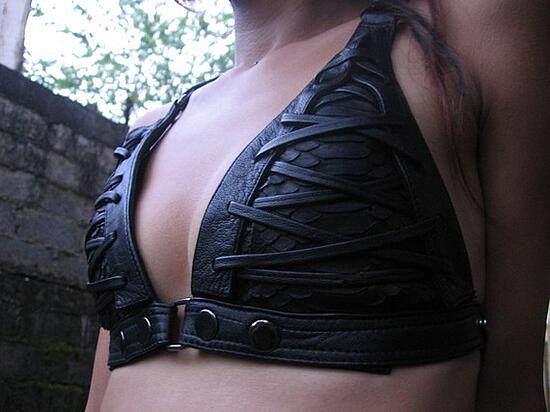 Source: etsy.com
It might be risqué, but it's certainly an unusual use. Most people want their python skin garments and accessories to show proudly, but using python skin for a bra makes for a very interesting statement, especially for those who do modeling or art photography.
It might not be too far removed from the ordinary, but we thought it was certainly worth a mention!
5. Python Skin Manicure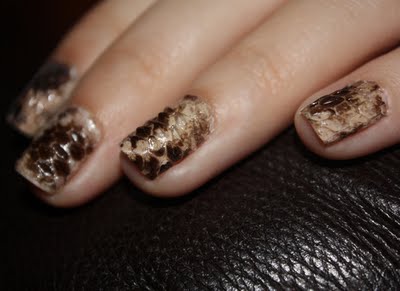 Source: psilovethis.blogspot.com
We saved this one for last because it's one of the most creative — and unusual — uses for python skin we've seen. This woman used python skin for a manicure and it looks great!
The texture that it gives her fingernails mixed with the reaction it's sure to provoke in people is one of the great reasons why we think it's great. Not only that, but if you're wearing a python skin dress along with it, it's the perfect accessory to that outfit.
Make Your Next Project Idea a Reality With Wholesale Python Skin
Ready to get started on your next python skin project? Download our free python skin guide to learn all you need to know about how we provide you with the best wholesale python skin on the market!
If you want to make your python leather ideas a reality, give us a call today! We tan our own leathers, and we can help you get started!