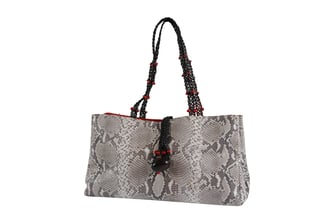 Exotic leathers are not a one-size-fits-all product; each type of skin has distinctly different dimensions.
Depending on what design the exotic leather is being used for, luxury handbags to custom bed frames, you should know the measurements of the panels that each skin can yield and what each exotic leather is ideally used for.
Below is a list of the various exotic skin types and corresponding panel sizes:
Typically this leather is easier to work with than some other crocodiles because it has relatively little bone.
These belly of the alligator skin yields squares of 5 cm (2") less than the width of the skin. For example, if it is a 40 cm skin, it will be a 35 cm x 35 cm (14" x 14") square panel. Alligator skins range from 20 cm to 90+ cm.
Handbags made from alligator skins typically require 35-60 cm (yielding 9-24" squares), depending on whether you are making a cluch or a larger style of bag.
Caiman leather is typically used in more structured designs because it has higher calcium deposits on it skin. This crocodile is only available in the smaller farmed sizes. The caiman skins used for handbags are typically 35+ cm, which comfortably yields a 8.5" square (8.5" x 8.5").
Pan American Leathers offer two types of exotic lizard skins: Nile and Ring. The average lizard skin size is about 26 cm of skin which yields 6" squares; larger handbag sized-skins should yield 10" squares of lizard skin.
This skin is typically a 30" square from full quill in center. When designing gussets, bottoms, straps and trim, use the partial quill, no quill and full quill on the edges.
Not only is the size important when designing with ostrich skin, but you should also consider the skin grade that accommodates the design.
- Grade I/II skins are often used when deigning garments, handbags, upholstery and luggage.
- Grade II/III are typically used when designing shoes, wallets and boots.
- Grade III/ IV skins are used for small leather goods and belts.
There are three types of python skins that designers use: Short tail, Burmese and Diamond. Each have qualities that accommodate the various aesthetic or tailoring needs of the designer.
The average short tail python will yield he following center cuts;
9" wide for 8" long;
8.5" wide for 14" long;
8" wide for 20" long;
5" long by the entire length of the skin (approximatley 60")
The average Burmese or diamond python skin will yield:
9" wide for 16" long;
8.5" wide for 28" long;
8" wide for 40" long;
5" long by the entire length of the skin (approximatley 120")
This leather is very durable and offers designers and buyers naturally unique properties such as a moisture repellent hide and a unique dorsal fin pattern.
Typically, each stingray skin can yield center square cuts of 2" smaller than the size of the skin. Handbag size skins are made of approximately 12+" skins which yields squares of 10+".
Below is a table exemplifying other various stingray sizes and their corresponding uses:
| | |
| --- | --- |
| Size (Width in inches) | Stingray Skin Uses |
| Less than 9" | Small leather ogods |
| 9" to 11" | Footwear |
| 12" to 14" | Handbags, large accessories, interiors |
| 13" to 17" | Auto, moto and home interiors |
Which Size Fits your Design?
There are a variety of exotic leathers to choose from when designing a luxurious and quality product with distinction; however, knowing the size you need and what each skin will yield is essential to creating a well-designed, aesthetically-pleasing and economical finished product.